Wimbledon champion Marion Bartoli elated after beating Sabine Lisicki
Marion Bartoli was full of joy after securing her first Grand Slam title by beating Sabine Lisicki at Wimbledon.
Last Updated: 07/07/13 9:35am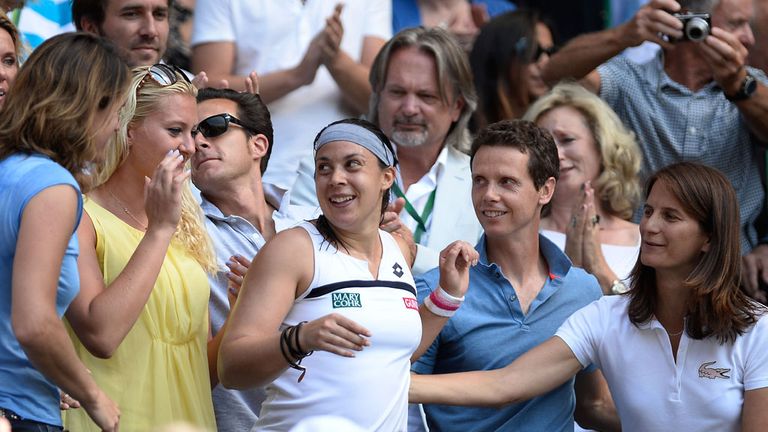 The 28-year-old from France, seeded 15th, was ruthless in overcoming her German opponent on Centre Court - rounding things off neatly with a rare ace.
"Honestly I just can't believe it," she said afterwards. "As a little girl I dreamt about this moment for so long.
"I was there in 2007 and I missed out. I know how it feels Sabine, and I'm sure, believe me, you'll be there one more time, I have no doubt about it.
"When I started this campaign on Court 14, I think if you told me I'd be here in the final I wouldn't believe you. To hold the trophy is unthinkable.
"I'm just so happy to be holding this trophy. It's been my dream since i was six years old.
"For me finishing by an ace, even in my wildest dreams I couldn't believe that. Maybe a backhand winner but not an ace. I've been practising my serve for so long. At least I saved it for the best moment."
Bartoli celebrated victory by climbing up to her box to celebrate with her father, who ended his 22-year stint as her coach in February.
"Those five to 10 seconds before you shake the hands of your opponent, you
felt like you're almost not walking any more on earth, it's like you're really
flying," said Bartoli.
"So to share this moment with my dad, I was looking at him in the players'
box. He was really cheering me on.
"A sunny, packed Centre Court at Wimbledon after winning in two sets... it was beyond perfection."
Lisicki, the 23rd seed who shocked favourite Serena Williams in the fourth round, said: "I think I was just overwhelmed by the whole situation. But credit to Marion. She's been in that situation before and she handled it perfectly.
"She's been on tour for so long and she deserves it. I hope I'll get the chance one more time as well."