Wimbledon final: Novak Djokovic thinks 2011 experience will help him defeat Andy Murray
Novak Djokovic is ready for the "biggest final in tennis" and is unconcerned about Britain's 77-year title wait.
Last Updated: 06/07/13 7:22pm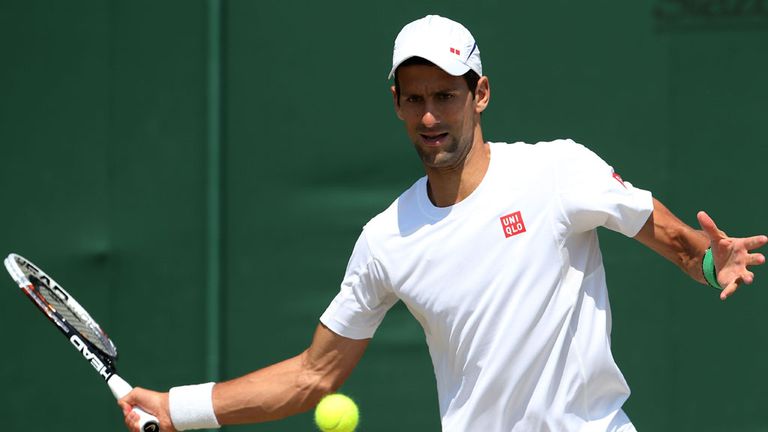 After a fortnight of upsets at the All England Club, Sunday's men's final pits the top two seeds against one another.
It promises to be quite a battle: Djokovic, the world number one, bidding for a seventh Grand Slam crown, against home favourite Murray, on the verge of a special achievement.
The 26-year-old became Britain's first male Grand Slam winner since 1936 when he overcame the Serb at last year's US Open.
Wimbledon is different, though. No Briton has triumphed in the men's singles since Fred Perry all those years ago - not that Djokovic gives a hoot.
"For me it's another final," he said. "I don't really think about that fact. I'm just trying to focus and get ready for what's expecting me.
"I'm definitely looking forward to the final. It's the biggest final in tennis that you can be a part of, so I'm very honoured to be playing in that match again.
"The 2011 experience and winning that trophy can maybe help me prior to tomorrow's encounter."
Rivals
Murray and Djokovic were born a week apart in May 1987 and have been doing battle on the tennis court for progressively higher stakes since they were juniors.
"We have known each other since we were 11 years old," Djokovic said, referring to their first meeting at a youth tournament in Tarbes, France.
"It was maybe my first international tournament. That's where he crushed me.
"I remember his curly hair. That's all I remember. I remember I had a short visit on the tennis court."
Circumstances have changed markedly since and Sunday will be the fourth grand slam final Djokovic and Murray have contested, with the Serbian holding the upper hand.
He has won their two Australian Open battles to Murray's US Open triumph and holds a 11-7 head-to-head lead amid a growing rivalry that has changed the dynamics of their relationship.
"It is difficult," Djokovic said. "He has his own team, his own routines, his own way.
"So we don't get together and have dinners and parties, but we definitely always chat and remember the fun days we had as juniors."