Wimbledon final: Novak Djokovic hails Andy Murray's 'victory for Britain'
Novak Djokovic praised Andy Murray after the Scot ended Britain's 77-year wait for a Wimbledon men's singles title
Last Updated: 07/07/13 10:30pm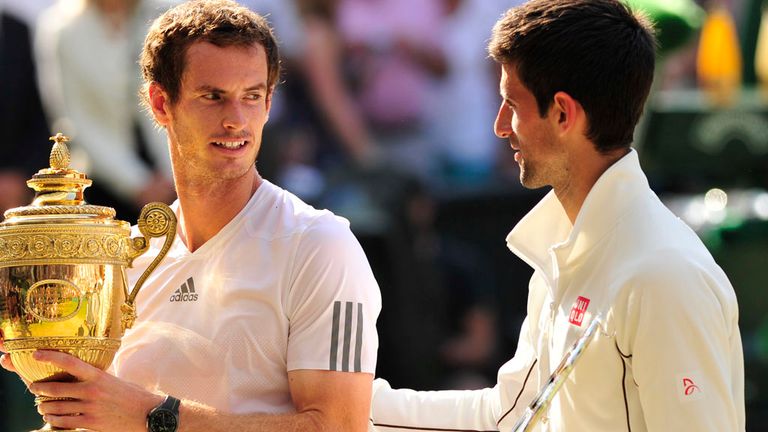 The world No 1 from Serbia was at the wrong end of a straight sets defeat by Murray, who won 6-4 7-5 6-4 in just over three hours.
Djokovic, who at 26 is just seven days younger than Murray, was typically gracious in defeat.
He said: "He deserved to win and that's it.
"It must mean a lot to everybody. Wimbledon is the most important tennis tournament in the world.
"Especially for him as a British player and crowd, it couldn't be a more perfect setting for them.
"It was a very long match for three sets. The bottom line is that he was a better player in decisive moments.
"Both second and third sets, I was 4-2 up and dropped the serve in those games and just allowed him to come back for no reason.
"He was getting some incredible shots on the stretch and running down the drop shots. He was all over the court.
"He played fantastic tennis, no question about it. He deserved to win. I should have played better in the decisive moments.
"I believed I could come back. I really fought. It wasn't my day.
"I didn't play on the top of my abilities, and with this kind of game I didn't have a chance to win."
Djokovic was indeed strangely off the boil. His game lacked organisation, his serving was poor and he produced 40 unforced errors - almost double that of Murray.
"It's a very high level of tennis that we competed at today," Djokovic said. "I knew I had to be on top of my game in order to prevail in this match.
"He had a huge motivation to win his first title. I also had a lot of motivation.
"It was a long opening six, seven games. It went almost 40 minutes.
"I wasn't patient enough in the moments when I should have been, when I should have looked for the better opportunity to attack, and my serve wasn't as good as it was the whole tournament.
"But also that is because he's such a good returner. When I was putting my first serves in he was always getting them back in the court and making me play an extra shot. That's why he won this tournament."
Partisan crowd
The 15,000-strong partisan crowd no doubt aided Murray, with Djokovic describing that atmosphere as "incredible for him - for me, not so much".
There was also the issue of fatigue. Djokovic took to the court less than 48 hours after his mammoth semi-final with Juan Martin del Potro. At four hours and 44 minutes, that was the longest last-four clash in Wimbledon history.
"It took a lot out of me," the Serbian said. "I cannot look for excuses in the match two days ago.
"Yes, it went almost five hours, five sets. But I've been in these situations before. I felt okay."
While keen to look ahead, Djokovic would not be drawn on the upcoming American hard court season, saying now is the time for rest.
"It was the final of Wimbledon, so I cannot be too disappointed with my overall performance in the whole tournament," the top seed said.
"It was a great tournament for me. I could have done better today, but that's sport - you cannot win all the matches. I'm going to try to take some time off, because that's exactly what I need now."
As for Murray, somebody Djokovic has known since the age of 11, what has changed?
"Well, he's got better evidently," Djokovic added. "He has won the US Open, gold medal, and now Wimbledon. That shows enough.
"I think there weren't many changes concerning his physical or maybe tactical position, but it was mostly mental. I guess the understanding of what he needs to do to win big matches.
"I guess Ivan Lendl helped him with his own experience. They're a good team."