Wimbledon: Judy Murray thrilled for son Andy after his first Wimbledon title
Judy Murray saluted her son Andy after he ended Britain's 77-year wait for a men's singles champion at Wimbledon.
Last Updated: 07/07/13 10:39pm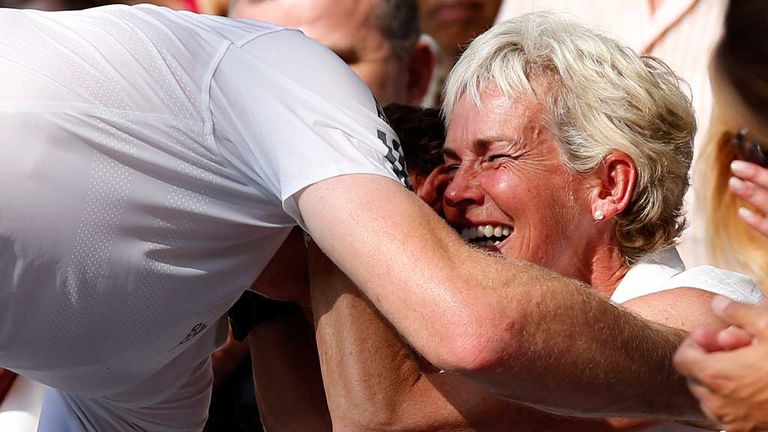 Murray saw off Novak Djokovic in straight sets on Centre Court and one of his first actions afterwards was to climb up to the friends and family box in the stands to hug his clearly proud and emotional mother.
After taking a little time to calm down, she said: "It's the best feeling ever to see your son win Wimbledon.
"This is what he has talked about winning since he was a little boy, it was a dream that has become a reality now for him.
"I have been shaking for the last three hours. I am fine now but 15 minutes ago (just before Murray won) I was an emotional wreck.
"I can't remember exactly what happened. I know he was 40-0 up in the last game and then it went to deuce, but he gutsed it out.
"There were some outrageous points in the final game. They had been out there for three hours and it was so hot, but he was so determined to win it.
"I had a good feeling. He has been strong and composed all week, but Novak is such a tough competitor so to bury him you have to play unbelievably. You have to play your A game to win and Andy brought a pretty decent game today."
Tim Henman, who lost all four of his Wimbledon semi-finals, believes Murray will go on to further Grand Slam success after making it two titles in the last 12 months.
Remarkable
"It's a remarkable achievement for him and something we are proud of," Henman said. "Andy had this belief in his heart of hearts that he would win it.
"He had some huge disappointment with losing 12 months ago but deep down he knew he could do this and this is going to be one of many more grand slams for Andy Murray."
Prime Minister David Cameron admitted he was thrilled to have been a part of the enthralled crowd at Centre Court and he added his congratulations.
Cameron said: "The noise was incredible, it was intense.
"Every point was exciting, there was so many breaks and break backs. In the Royal Box we were shouting and hugging, it was so emotional because we have waited so long for a champion.
"It was an amazing day for British tennis and for Britain. It felt like the Olympics. The whole country was watching.
"Andy has dedicated his life to this, and he produced a performance that was exquisite. On behalf of everyone in Britain, well done Andy. Congratulations, you have lifted us all."