Wimbledon: Sir Chris Hoy believes Andy Murray would become the champion on Sunday
Sir Chris Hoy felt it was Andy Murray's destiny after watching him end Britain's 77-year wait for a Wimbledon champion.
Last Updated: 08/07/13 12:59pm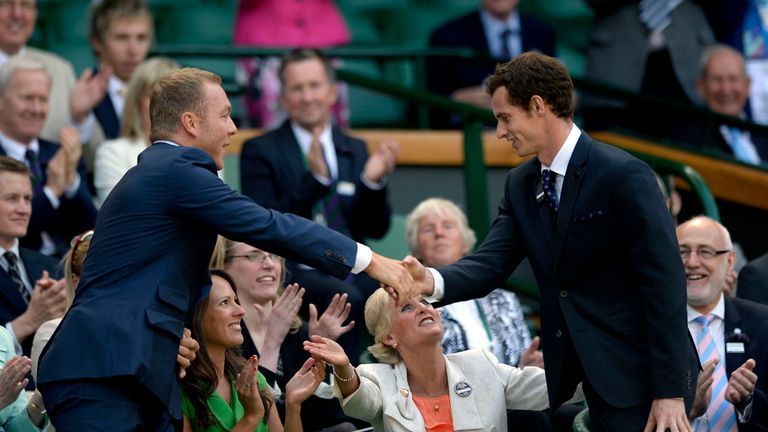 Hoy, a six-time Olympic cycling champion, has become close to Murray over the last few years after watching his compatriot's career blossom.
Hoy joined Murray's mother Judy, girlfriend Kim Sears and coach Ivan Lendl in their box to cheer the 26-year-old to glory following his stunning three-set victory over Novak Djokovic.
Murray was inspired from the off and played his best tennis of the tournament and he avenged last year's defeat to Swiss great Roger Federer with an inspired 6-4 7-5 6-4 triumph.
Destiny
"The feeling in the box was that it was destiny, that this was the time for him," said Hoy, who retired in April.
"There was never complacency or over-confidence but you could tell they felt Andy was in the best shape of his life, physically and mentally, and today was going to be his day.
"It was a privilege to experience that. To be up in the box and to be with his crew and his family and everybody, it was one of these moments you realise actually it's history being made right in front of you."
Expectations
Hoy knows all too well how difficult it is to deal with the expectations of a nation, having been one of the sportsmen the British public expected to romp to Olympic glory.
But the 37-year-old says he has never experienced the amount of pressure that Murray has had to deal with over the last few years.
"I think it's unique in the world of sport at the moment," he continued. "There's no other country that has an event of this scale without a local winner for so long.
"Every year that went by meant more and more pressure. So to do that with the whole nation expecting and waiting for him to win, it was just phenomenal."