Andy Murray says the atmosphere for the Wimbledon final was unbelievable
Andy Murray has praised the crowd for their support after ending Britain's 77-year wait for a Wimbledon winner.
Last Updated: 08/07/13 3:55pm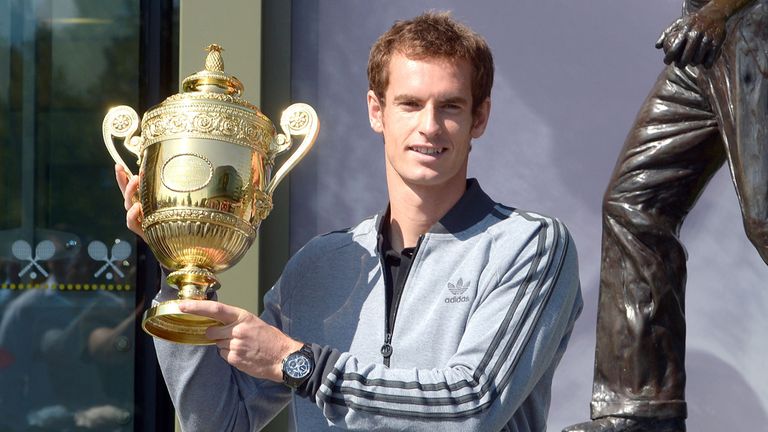 And Murray hopes one consequence of his victory will be that he is able to play under less of a burden of expectation in the future.
"The atmosphere on the court yesterday was unbelievable, from when we walked out and right until the end it was amazing," said Murray on Monday morning.
"Then I saw some clips after the match of the hill, Dunblane (his hometown), London, there were so many people behind me."
Reflecting on the consequences of his win, he added: "I feel very relaxed today and there was a huge release of tension and pressure yesterday.
And Murray says he has been inundated by messages of congratulation since claiming the Wimbledon crown.
"I got a message from the Queen and spoke to David Beckham on the phone this morning," he said. "Messages from so many people; friends, family, people who have coached me in the past."
Relaxed
"Once I get back on the match court, I don't know if I'll feel more relaxed.
"But last year, after the US Open, in the next few tournaments I played, I felt a lot calmer on the court, and just a lot better about things."
Murray will be off on holiday shortly, although he added that he also hopes he may have time to visit his hometown.
"I'm not 100 per cent sure exactly what I'm going to do," he told Sky Sports.
"I was planning on going away on holiday for a week or so, but I'm not sure exactly where yet. I'll try to get away but it would be nice to go back and see all my family back up in Scotland."
Inspiration
Murray is optimistic that his triumph will have a positive legacy, adding: "I hope more kids start playing and I hope it's not as long before another British winner.
"But it's not my job, there are people who have to put things in place and give kids the opportunity to play. I hope yesterday has done a small part towards British players achieving better results."
Murray also said he would love to reach the top of the world rankings one day but the current number two admits it will be hard to overhaul current top man Djokovic.
"Everybody would like to be World No. 1 but it's such a hard thing to do," he said.
"Right now I hold two of the Slams, went to the final of one of one of the other ones and won Olympic gold but I'm still not close to number one.
"It takes a whole year of just great play and consistency, maybe one day I can get there."