Relentless to the last
Barry Cowan says it could be some time before Andy Murray and Novak Djokovic's dominance is quelled.
Last Updated: 10/07/13 4:10pm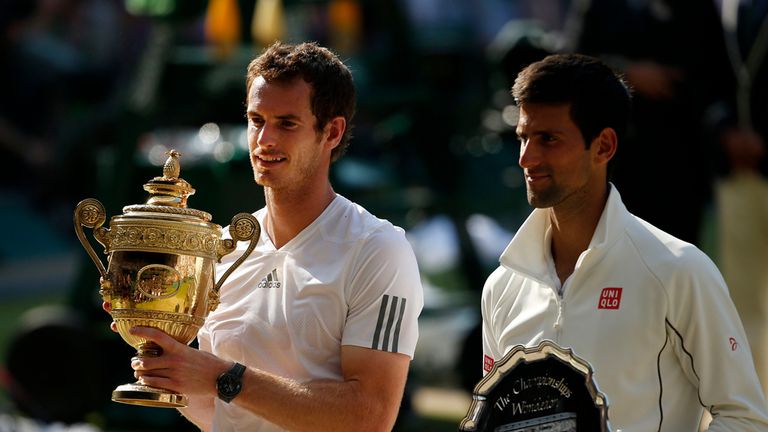 Before we officially state that we are in the Andy Murray-Novak Djokovic era of tennis, we must not forget what Roger Federer and Rafael Nadal have done - and are still capable of doing.
Rafa was disappointing at Wimbledon, where he was beaten in the first round, but he has only lost three matches this year and could very well end 2013 as world number one, while Federer has contributed to fantastic period in the sport.
But there is no denying that, on current form, Andy and Novak, who have a friendly rivalry as opposed to a spikey Connors-McEnroe like one, are the best two players in the world on grass and hard courts and Sunday's match at Wimbledon will not be the last Grand Slam final they contest.
It will take some effort for another player to consistently compete with those two because, as emphasised in the final, which was only three sets but over three hours long, you have to play relentless point after relentless point in order to beat them.
Tennis has changed some much in the modern era and some of the rallies we saw on Sunday, and in the Djokovic-Del Potro semi-final, are an example of how physically and mentally strong you have to be over a sustained period.
Credit
I don't see anyone around currently who can get up to the level of Murray, Djokovic, Nadal and Federer and that's why Andy deserves so much credit for breaking into that Novak-Roger-Rafa stronghold with his wins at the US Open and, now, Wimbledon.
Murray was always lurking beside them and had his successes in the Masters events, but he is a permanent member of the elite now and I'm certain that he will win more Grand Slams if he stays injury free.
I put Andy's Wimbledon triumph down to many factors: his serve, which in his quarter-final with Fernando Verdasco, semi-final with Jerzy Janowicz and also in the final, was exceptional; his movement, which forced Djokovic to go closer to the lines and make errors; the crowd, who were so-pro Murray; and a little bit of destiny.
Andy was also so perseverant and managed to compose himself at the difficult moments and fight back - like when he was down a break in the second and third sets - something, as Murray has admitted, he may not have been able to do a few years ago.
I think the Brit may have wanted to win too much in his first four Grand Slam finals and that may have been why he was beaten, but on Sunday he relaxed, grasped his opportunity and was able to play his best tennis.
Andy's coach, Ivan Lendl, has helped massively in that regard; he knew what it was like to struggle in Grand Slam finals - he, like Murray, lost in his first four - but then regroup and land the big titles, and the fact Murray has done the same shows how successful the partnership has been since it began 18 months ago.
Support
Marion Bartoli, meanwhile, won the ladies' singles at Wimbledon to prove that there is more than one way to skin a cat; the French player is different and so are the philosophies of her father, Walter, but Marion has fully trusted him.
Walter does not coach Bartoli anymore but he is a constant in her life and you cannot underplay the impact that support from family and friends has on creating a Grand Slam champion; it gives you something to cling to during the tough times.
The player Marion beat, Sabine Lisicki, froze a little on the big occasion and you wonder whether she may have lost her best shot at winning a Grand Slam - but there are still plenty of things in her favour.
The German is only 23 and did not make the Wimbledon final by luck - she beat Grand Slam winners Francesca Schiavone and Serena Williams and the very talented Agnieszka Radwanska - so she just has to get back on the practice court, keep believing and become a better player.
Lisicki contributed greatly to a fantastic Wimbledon but other than Murray's victory what really stood out for me was that incredible semi-final between Djokovic and Juan Martin Del Potro on Friday afternoon.
The quality of the shots and the physically gruelling nature of the points were superb.