Martina Hingis wins on doubles return but confirms no plan for singles comeback
Martina Hingis made a winning return in doubles but insisted she has no plans for a singles comeback.
Last Updated: 01/08/13 12:48pm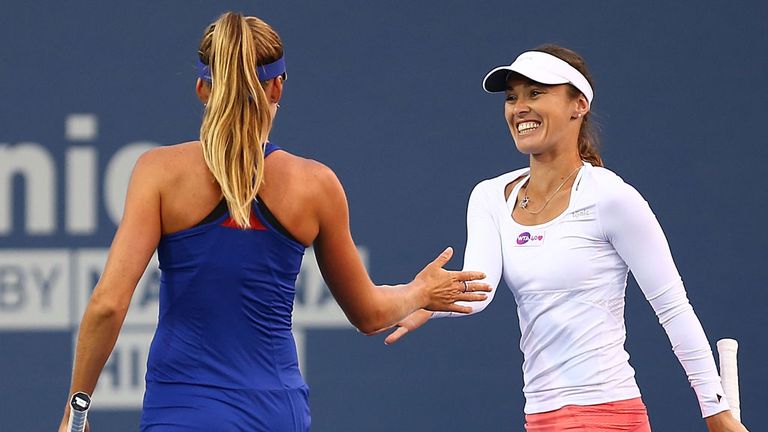 The 32-year-old Swiss retired in 2007 but last month accepted a wildcard invitation to partner Slovakia's Daniela Hantuchova at the Southern California Open.
The pair wrapped up the first set against Julia Goerges and Darija Jurak 6-1 inside 25 minutes.
And a 6-1 success in the second set meant victory was achieved inside 52 minutes at the Omni La Costa resort.
Hingis, who has been helping to coach Russian star Anastasia Pavlyuchenkova of late, has more wild cards to take up at forthcoming tournaments and also plans to play doubles at the US Open.
She explained the reason behind her return: "I always had it in the back of my head, probably the last six years.
"But now having been back so much closer to it - helping Anastasia Pavlyuchenkova and being closer to the game, closer to the matches, mostly the doubles, I felt like I should try it again."
Ruling out a return to singles, Hingis - a winner of five Grand Slam singles titles early in her career - added: "It's a completely different world. Even World Team Tennis now, it's brutal, it's only one set but still the next day you wake up, and you have to put so much more effort into it.
"Playing tournaments is the easy part - it's the grind behind it that's tough, the things behind the scenes that people don't see, the six to eight hours of training, and the older you get the more rehab you have to do. When you're 17 everything seems so easy, but now I'm almost twice the age.
"I wouldn't want to come out and play one or two matches and then lose third round, that's not my type of personality.
"So ('I'm not returning to singles), not at this point, no."
However, Hingis says her doubles appearances are not simply a fad.
"If this is a complete disaster, I would not want to continue," she said when asked about playing beyond the US Open, "but hopefully that's not the case."