Western & Southern Open: Rafael Nadal wins Cincinnati tournament for first time
Rafael Nadal earned his ninth title of the year with a 7-6 7-6 victory over John Isner in the final in Cincinnati.
Last Updated: 18/08/13 11:45pm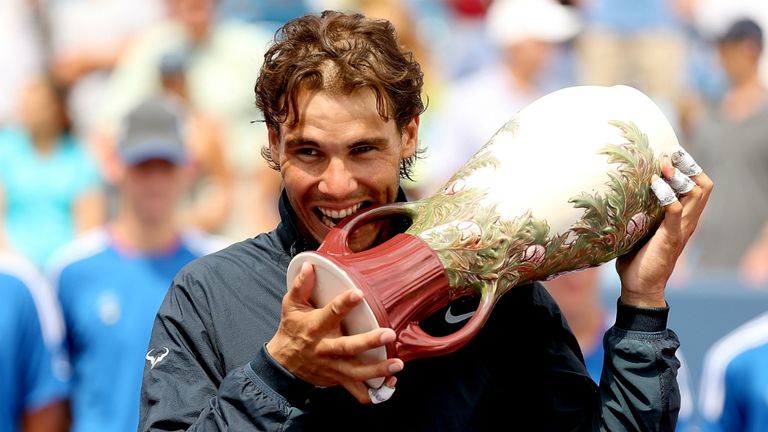 Nadal prevailed in two tie-breaks, 7-6 (10/8) 7-6 (7/3), to win the Cincinnati Masters 1000 series tournament for the first time in his career.
Isner, the Florida-based world No.22, did not face a single break point on his own serve during the match.
But still it was not enough as Nadal - who saved three set points in the first set - took his chances in the tie-breaks.
Nadal also won the in Montreal last week and moves back above Britain's Andy Murray to second in the world rankings ahead of the US Open.
Tight
Both players were dominant on their own deliveries until Nadal, serving to stay in the opening set at 5-6, fell 15-40 down.
He produced a couple of pinpoint serves to get out of trouble, Isner failing to get either return into play.
Isner also had a set point when leading 7-6 in the subsequent tie-break but again failed to convert and Nadal was able to close it out 10-8 on his third set point.
The second set followed a familiar pattern and it was no surprise when another tie-break was required.
This time Nadal dominated it, moving 5-1 up before clinching the match with a passing shot and dropping to his back in celebration.
'Amazing'
"This is amazing, I'm very happy for everything," said Nadal. "I have never played well here, this is the first time that I felt like I have.
"John had an amazing week, beating three tough opponents. I'm sorry for today, but if with that serve and that forehand I'm sure he will have lots of chances to win an event like this.
"This title is very important for me, the (US) Open is still a week away. This is the time to enjoy this one. In a few days I'll start thinking about the Open."
Isner, who beat world No.1 Novak Djokovic on the way to the final, did not feel he had much to reproach himself about.
"I knew I had to come today and play well," he said. "I thought I did but unfortunately I ran into one of the greatest players ever to play the game. Rafa's an incredible champion.
"This is the toughest tennis event in the world. The draw is smaller than a Grand Slam and everyone is inside the top 50."