Serena Williams seals number one spot for third time after dominant campaign
Serena Williams has been confirmed as the year-end world No 1 after her memorable season on the WTA Tour.
Last Updated: 27/09/13 2:21pm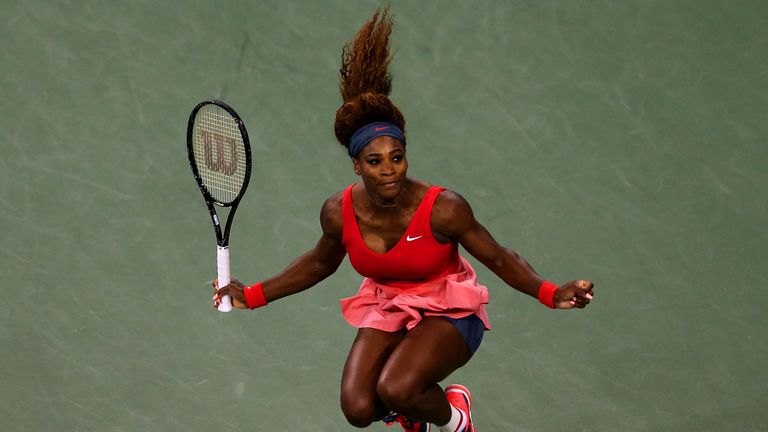 The 32-year-old, who became the oldest player to secure top spot in the rankings when she returned to number one in February, has won more than $9 million in prize money so far this year.
She took her tally of Grand Slams to 17 by winning the French and US Open titles and also captured seven other tournaments. Her win-loss record on the WTA Tour this year sits at 67-4.
"Serena has proven time and time again throughout her career that she is an incredible champion, both on and off the court," WTA chairperson Stacey Allaster told the WTA website. "This season she continues to rewrite the record books, proving she is one of the sport's greatest athletes of all time."
Williams, who has 55 singles titles and 22 doubles crowns in her career, also secured the prestigious year-end number one ranking in 2002 and 2009.
She joins Justine Henin and Martina Hingis as a three-time year-end number one. Only Steffi Graf (8), Martina Navratilova (7), Chris Evert (5) and Lindsay Davenport (4) have achieved the feat on more occasions.
Williams will be presented with her trophy during the WTA Championships in Turkey in October.
Venus record ruled out
Meanwhile, sister Venus Williams has been denied a new record for the world's fastest serve.
The American's rocket delivery, clocked at 129.9 miles per hour, came during Thursday's 6-3, 6-7 (4-7), 6-3 quarter-final win ove Eugenie Bouchard at the Pan Pacific Open.
However, the IDS radar guns the WTA uses to track official service speeds are not deployed in Tokyo.
The multiple grand slam-winner, who has suffered a spate of injuries in the last two years, was herself surprised with the reading on the speed gun.
"I saw that but I was like: 'Is that real?' So I don't know if that's real," Williams told the WTA in an interview. "I know I've been serving a lot harder this tournament than since I've come back from my back injury.
"I couldn't really serve that hard at the US Open and this summer. It feels good but I don't know if it was that hard. I hope it was... that's insane, it's awesome."