Andre Agassi says Rafael Nadal could surpass Roger Federer's tally of 17 Grand Slams
Former Wimbledon champion Andre Agassi believes Rafael Nadal has a claim to being the greatest player of all time.
Last Updated: 27/09/13 2:21pm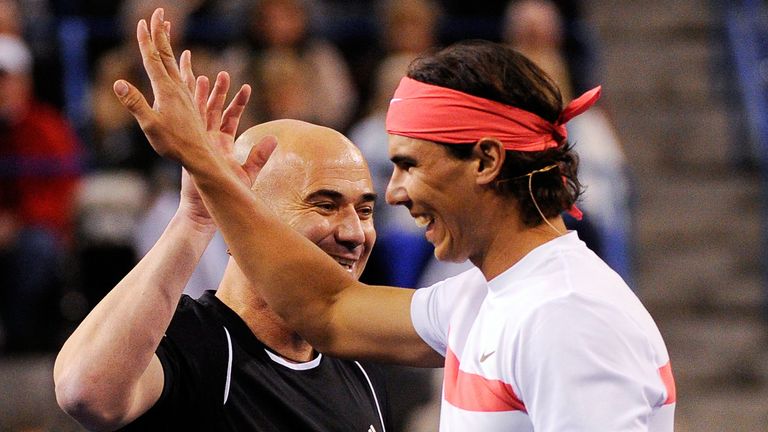 Nadal took his Grand Slam count to 13 this year after capturing an eighth French Open and third US Open and is closing in on Roger Federer's all-time record of 17.
Agassi, who won eight Grand Slams between 1992 and 2003, said: "I think it's fair to say that Rafa has a shot at it (passing Federer) and one might argue has a good shot at it.
"I don't see anyone winning the French (Open) for the next couple of years, but him. But that's assuming he stays healthy.
"But this guy I don't think has to win more to prove that he can be argued as the best of all time."
Agassi, who was speaking at the UK launch of his athletics equipment, also believes that Federer (now world No.5) will find it increasingly hard to win further Grand Slams.
"He could, but it's getting more unlikely. He has to go through now three guys (Nadal, Andy Murray and Novak Djokovic) that expect to beat him. That's a tall order under any circumstance but if a few guys don't show up at the right time he could absolutely sneak another one."
As for Murray, Agassi says he isn't surprised to see the Scot suffer a dip in form after the amazing high of his Wimbledon victory.
Let-down
"I expected a let-down," said the 43-year-old, who had to wait over two years for another Grand Slam after bagging his first at Wimbledon in 1992.
"I've believed in him for years. When I watch what he can do on the tennis court, I say he's as good as anybody at this best.
"But it's also when he's playing with conviction, it's also when he's playing with being focused and he's not distracting himself.
"There's a lot that goes into winning these things and a lot of it's in your head and a lot of it's preparing right.
"He's starting to figure all those things out and he has a lot more to come."