Davis Cup: Spain's skipper Carlos Moya hoping to entice Rafael Nadal
Carlos Moya is hoping he can persuade close friend Rafael Nadal to play for Spain in next year's Davis Cup.
Last Updated: 10/10/13 3:49pm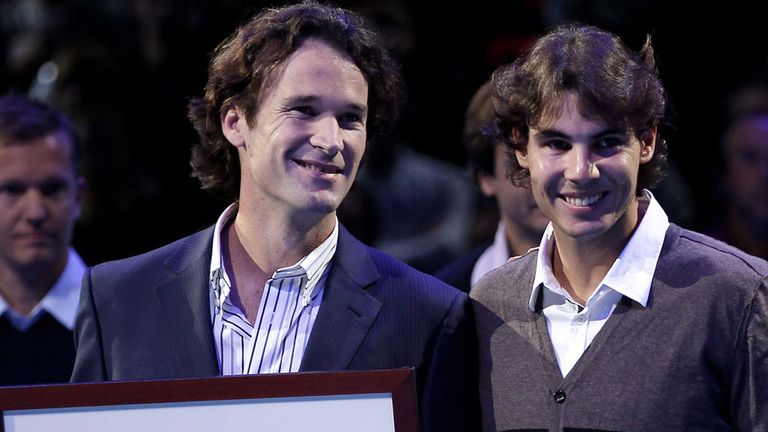 Moya recently replaced Alex Corretja as the country's Davis Cup skipper and, in his first match in charge, Spain face a difficult trip to Germany at the end of January.
The 37-year-old Moya is a former world No 1 and a winner of the French Open in 1998.
He also tasted Davis Cup glory with Spain in 2004 and now hopes that his fellow Mallorcan, Nadal, will pledge his support for the forthcoming campaign.
Moya said: "Without a doubt he's one of my great friends but we'll have to talk and see what he's thinking.
History
"I know that history has shown that the top 10 players tend to miss the opening rounds.
"There's still time to talk (with Rafa). He's immersed in a fight for the top spot in the rankings now but later we'll talk and see what he has in mind.
"It's a bit of an unknown because there's no point in talking Davis Cup with him if he's injured. My main mission will be to get everyone to lend a hand."
Even without Nadal, Spain are in the strong position to call up three other top 20 players - David Ferrer, Nicolas Almagro and Tommy Robredo - with Feliciano Lopez and Fernando Verdasco a little further down the ATP Ranking.
Moya added: "It's a difficult tie but we are Spain and Spain, right now, is a top world tennis power.
Talent
"I love the talent we have coming up in our youth system but this is a competition we want to win in 2014."
As for his new role, he went on: "Being captain is as close as possible as I can get to feeling that excitement again.
"After so many years of being a player it was the next natural step to take.
"I'll be involved with a lot of my ex-teammates who I played with and against, plus I also played against most of the players we'll face in the Davis Cup, so I know our rivals and that's a good bonus to have."
Spain has won five Davis Cup titles since 2000 - more than any other nations during that period.