Boris Becker believes Andy Murray can become world No 1
Boris Becker believes Andy Murray has what it takes to become world No 1, as long as he is convinced himself.
Last Updated: 21/10/13 5:40pm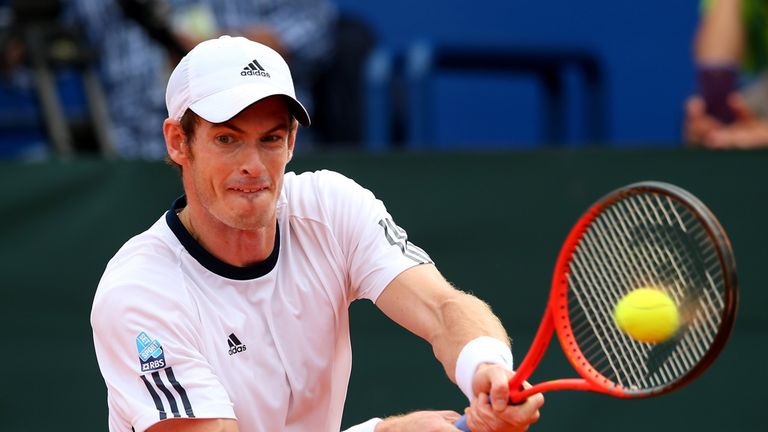 Murray will miss the end-of-season ATP Tour finals at the O2 Arena in London, which get underway on 4 November, as he continues to recover from back surgery.
The Scotsman will therefore prepare himself for the Australian Open in January and a tilt at securing the world's top ranking, although Becker concedes Murray will also need to stay fit and enjoy some luck in order to topple Rafael Nadal at the top of the tree.
"He hasn't talked about it yet, which has surprised me," Becker told Sky Sports News when asked about his chances of becoming world No 1.
"After winning Wimbledon, that would be the next logical step.
"He hasn't said it yet because I don't think he was prepared for it in his head and I think that is the process he is now. What's the next big goal? It has to be becoming No 1.
"He was No 2 for a long time, he is the Wimbledon champion, he would have the talent and quality to do so.
"But he must be fit, he needs consistency and he needs to have a plan for next year. So yes, of course he can."
Talent
Becker, who won six Grand Slam titles during an illustrious playing career, also feels Laura Robson has made the correct decision by splitting with coach Miles Maclagan after just four months together.
The 19-year-old has since been linked with Swedish coach Thomas Hogstedt, who was guiding Maria Sharapova until they split earlier this year and Becker feels he would be a good choice to help her develop as a player.
"She had injury problems and illness and she is still very young, so naturally there are some bumps along the way," added Becker.
"She has lots of raw talent, is quite tall and she is a very good shot maker.
"But I always felt physically she could be in a little better shape. If you look at the likes of Maria Sharapova and Serena Williams, some of the fittest players of all time, that is the competition.
"She has been winning with talent more than with proper strategy and the coach is always the weakest link.
"For her to split was probably the right decision and Thomas Hogstedt is a very experienced man, having worked with the likes of Sharapova, so it could be a step in the right direction."