WTA Championships: Serena Williams and Victoria Azarenka make winning starts in Istanbul
Serena Williams laid down an ominous marker with a 6-3 6-1 rout of Angelica Kerber in her opening match in Istanbul.
Last Updated: 24/10/13 9:46am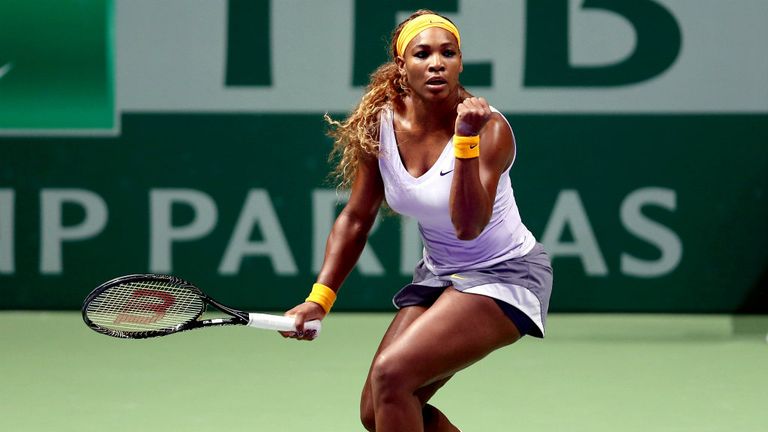 The American top-seed, who is seeking a remarkable 11th title of the season, clinically dispatched German opponent Kerber in quickfire time to make a winning start in the Red Group.
The defending champion barely put a foot wrong, crunching 31 winners to make the perfect start in her quest for a fourth end-of-season title.
Kerber is the only player in the group ever to have beaten Williams, and one of only four different players the American has lost to since Wimbledon last year.
That came in Cincinnati last summer but there was never any danger of a repeat.
Victoria Azarenka had earlier overcome a slow start to defeat Sara Errani 7-6 (7/4) 6-2 in her opening White Group match in Istanbul.
The Belarussian world No 2 battled back from 5-2 down to win the opening set via a tie-break before steamrolling through the second against Italian opponent Errani.
Losing streak
Sixth seed Errani squandered three opportunities to serve for the first set - the closest she had come to winning a set against Azarenka since her only victory back in 2008, but her efforts were not enough and it was no surprise that the Belarusian won the second a little easier.
It was still not entirely straightforward, though, with Azarenka looking rusty and hesitant until she finally got into her stride to win the final four games and the match after two hours and 14 minutes.
The 24-year-old had been on a three-match losing streak dating back to the US Open semi-finals more than a month ago.
A final defeat by Serena Williams in New York was followed by opening defeats in both Tokyo and Beijing, but a winning start to her campaign puts her in a strong position to qualify for the semi-finals from the white group.
Former Wimbledon champion Petra Kvitova then rounded off the opening day's play with a 6-4 6-4 victory over Agnieszka Radwanska in the Red Group.
Kvitova has finished a difficult season strongly and she survived a lengthy final game against Radwanska to clinch victory on her third match point with a successful HawkEye challenge.
Although it was an upset on rankings, it was the fifth time in six meetings the Czech has beaten Radwanska and puts her in a great position to qualify for the semi-finals.