ATP World Tour Finals: Roger Federer focused on recovery ahead of tournament
Former world No 1 Roger Federer has promised to give his best at the season-ending ATP World Tour Finals in London.
Last Updated: 03/11/13 11:42pm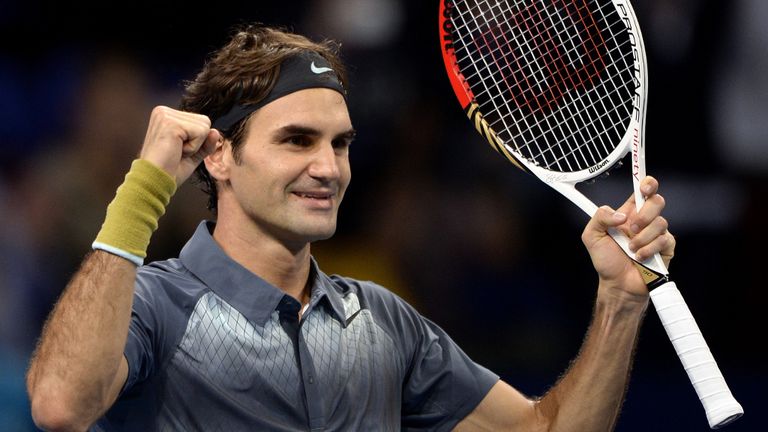 The Swiss ace has won just one title over the past 14 months and he now has the chance to compensate somewhat for a feeble season at the O2 Arena.
Federer has been drawn in a tough-looking Group B that includes defending champion Novak Djokovic, the in-form Juan Martin del Potro and Frenchman Richard Gasquet.
But the 17-time Grand Slam champion is focused on his recovery ahead of Tuesday's opening match against Djokovic.
"I still have another week where I have to give it all. After, it will be long holidays," the 32-year-old Federer said after losing to Novak Djokovic in their first meeting this year in the Paris Masters semi-finals on Saturday.
"I'm always excited about those challenges," said Federer, who will be competing for the 12th straight year in the ATP Finals.
"I have had a good couple of weeks now, and the most important thing is to recover as much as I can, so maybe the extra day I will get over Novak now, who knows, could be an advantage. But I doubt it."
Federer, who won his last Grand Slam title at Wimbledon in 2012, has only two victories against top-10 opponents in 2013.
He registered the first one in January against Jo-Wilfried Tsonga in the Australian Open quarter-finals before a series of defeats against opponents outside the top 50.
But he confirmed his recent improvements with a win over del Potro in Paris this week.
After reaching his first final in more than four months in Basel in October, Federer showed more signs of recovery in Paris, where the back problems that have been hampering him for most of the season did not reappear.
"I played a lot of tennis during the past 10 or 12 days. It gave me a lot of information," Federer said.
"I know what I have to do now. I know what I did well, what I can improve. I know physically where I am, and mentally I have a lot of confidence. I know my body is keeping it up."
Watch every session of the ATP World Tour Finals - which run from November 4-11 - on Sky Sports. Click here for coverage details.
You can catch all the action from the ATP World Tour Finals with a Sky Sports Day Pass. For more information click here