ATP World Tour Finals: Novak Djokovic targets semi-final spot
Novak Djokovic will turn his attention to trying to secure his place in the semi-finals of the ATP World Tour Finals.
Last Updated: 07/11/13 7:31am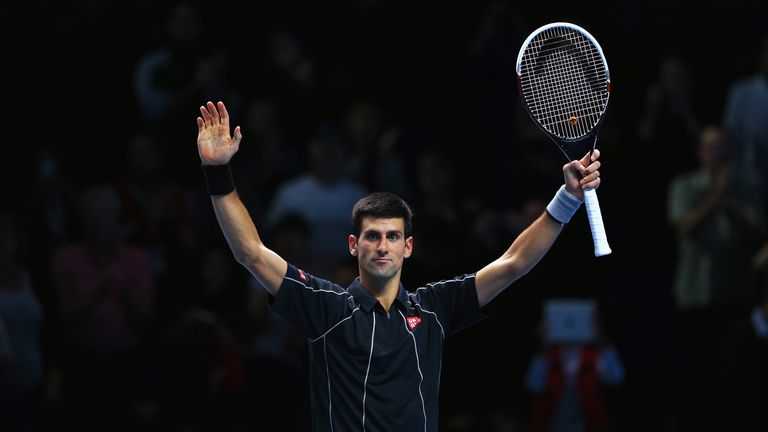 It was a heroic effort from Djokovic to stay on Rafael Nadal's coattails for so long, the Serbian winning 18 straight matches to keep his chances alive.
But Nadal knew when he arrived at London's O2 Arena that two victories would be enough and he clinched his second on Wednesday with a 7-6 (7/5) 7-6 (8/6) victory over Stanislas Wawrinka that also put him through to the last four.
Djokovic will try to match that on Thursday when he takes on Juan Martin del Potro.
Victory for the defending champion coupled with a win for Roger Federer over Richard Gasquet would see Djokovic qualify for the semi-finals with a match to spare.
Speaking before the tournament, Djokovic insisted he would not be getting caught up in the year-end ranking race.
He said: "It doesn't make sense for me to get into the calculations.
"What is important for me is that I know winning three tournaments in a row gives me a lot of confidence coming into this week and the closing weeks of the season and opening up the next season also.
Incredible
"I'm building something for what's coming up and, if I finish No 1, that would be an incredible achievement and I would be very happy but of course it's not at the top of my priority list right now.
"I know the rankings will follow if I have good results."
Sealing the number one spot is a remarkable achievement for Nadal given he did not play a tournament until February after seven months out with knee problems and lost in the first round at Wimbledon.
He had played down the importance of the number one position prior to Wednesday's win but afterwards he was happy to admit what it meant to him and how much he felt he deserved it.
The Spaniard said: "During all my season I said it's not my goal, but the real thing is after all the success I had during the season, I think that after all what happened last year, I felt I deserved to be there at the end of the season. And I did it.
"It was one of the best things that I did in my career, to come back to the number one after three seasons."
The second semi-final qualifier in Group A will be decided on Friday between Wawrinka and Tomas Berdych, who beat David Ferrer 6-4 6-4 to eliminate the third seed.
Victory for Berdych over Nadal would be enough, but he has lost their last 15 meetings.
You can watch day four of the Barclays ATP World Tour Finals from noon on Thursday on Sky Sports 3 HD.