WTA awards for Serena Williams and Simona Halep
Serena Williams is the WTA Player of the Year for the fifth time whilst Simona Halep won the Most Improved award.
Last Updated: 26/11/13 10:30am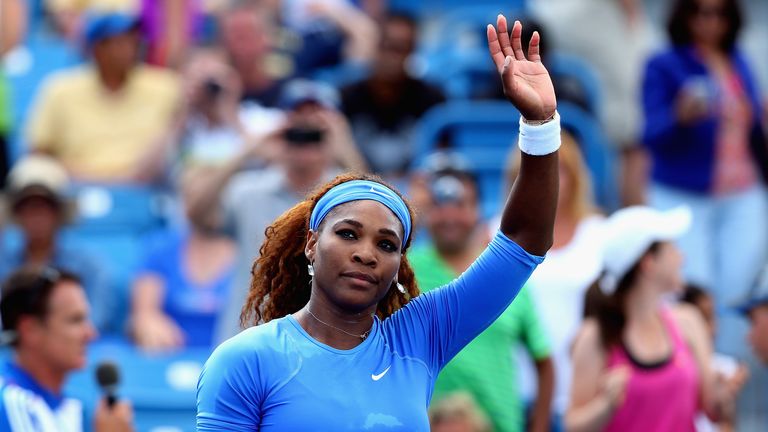 The American, the oldest world No 1 in history at 32, enjoyed one of the greatest seasons on record.
She won 78 of her 82 matches, winning the US Open, the French Open and 11 other WTA titles in the process. She also won a record $12,385,572 in prize money.
Williams said her victory at the French Open was the highlight of her year.
"Obviously the French Open was probably the thing that stands out most," she told the WTA website. "I really wanted to win that for a number of years now, so that was definitely something exciting. And also being undefeated on clay was pretty exciting too. So my results on clay this year definitely stand out.
"Overall I'll remember the wins, but I also want to learn from my mistakes so I don't repeat them.
"I have some areas where I can do a lot better for next year and I look forward to it.
Williams was also player of the year in 2002, 2008, 2009 and 2012. Only Steffi Graf - with eight - has won the award more times.
Romania's rising star Halep is the WTA's Most Improved Player Of The Year.
Halep had been tipped for years to make the big time after some stellar performances in the juniors.
She is a former junior world No 1, and won grand slams at that level. But in her first three seasons on the women's tour she struggled, and was ranked No 64 going into the tournament that was to become the turning point of her year, and her career - Rome, in May.
In the Italian capital she beat Svetlana Kuznetsova, Agnieszka Radwanska, Roberta Vinci and Jelena Jankovic - before losing to Williams in the semi-finals.
After Rome she won 39 of her 46 matches in the rest of the season, and won six titles, at Nürnberg, 's-Hertogenbosch, Budapest, New Haven, Moscow and Sofia, and finished the season at No 11 in the world rankings.