Ross Hutchins to make ATP Tour return at Brisbane Internationals
Ross Hutchins says he has no qualms about making his comeback at the Brisbane International in two weeks' time.
Last Updated: 18/12/13 11:13am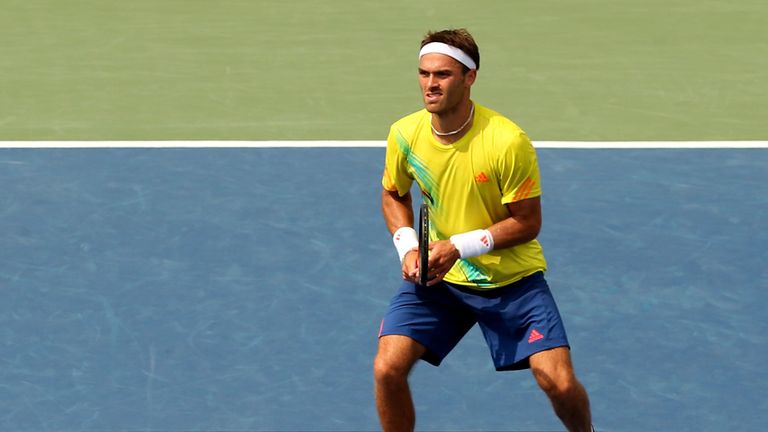 Last January, while training at La Manga, Hutchins discovered he had Hodgkins lymphoma. The cancer had already spread throughout his body, but after six months of intensive chemotherapy, he was told he was in remission in July.
Now Hutchins is back training alongside doubles partner Colin Fleming at La Manga, and he had no hesitation about returning this year despite the association with his illness.
The 28-year-old said: "I've come here for 18 years and it's an absolute gem for me, I absolutely love it.
"I actually look at it favourably last year because it's the place that almost made me realise that I had the cancer. I will never think of this place with any negative thoughts. It's the place that fixed me."
Hutchins has just returned from a training camp with Andy Murray and top British prospect Kyle Edmund.
He goes for scans every three months to check he is still in remission but believes physically he is almost back to where he was before chemotherapy.
On the mend
Tennis wise, Hutchins puts himself at 60 per cent but hopes that will be close to 90 per cent by the time the season starts, and higher still for the Australian Open.
The 28-year-old will not allow his ordeal to affect the ambition he has for himself and Fleming, central to which is qualifying for the end-of-season ATP World Tour Finals in London.
"It's nice to have a second chance," said Hutchins. "I never thought I'd need a second chance.
"I knew I'd get injuries but to have to stop and go through a different sort of recuperation and what I've had to do the last year, it's been an experience for me.
"Looking back now a year later I'm pleased and very proud of myself and of the team around me that we've been able to get to a stage where I feel I'm able to prepare flat out and be going to Australia fully fit and raring to go.
"I do feel I've got that chance now to try to achieve more than what we did before. We want to make the Barclays ATP World Tour Finals and we feel like we're a good team.
"Just because we've had a year off, it doesn't mean we can't pick up where we left off across the whole of 2014. We expect to do well, we don't want to take baby steps."