Australian Open: Two-time US Open champion Patrick Rafter, 41, to play in doubles
Pat Rafter is making an unexpected comeback to play doubles with Lleyton Hewitt at the Australian Open.
Last Updated: 12/01/14 10:04am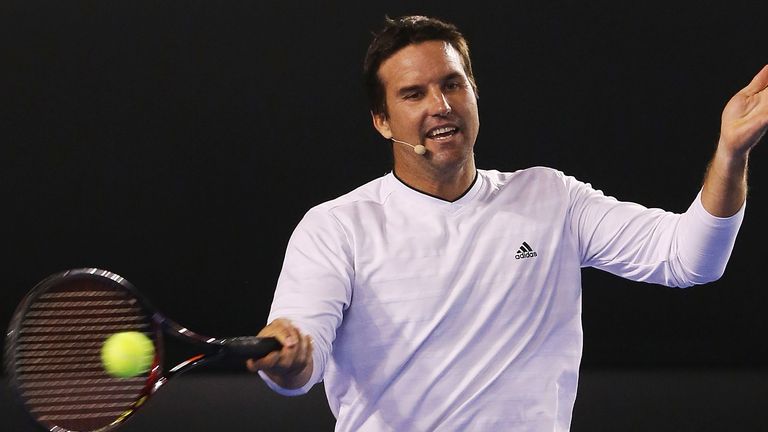 The presence of the Australian pair came as a big surprise when the draw for the men's doubles was revealed on Sunday.
Australia Davis Cup captain Rafter, 41, has not played a tour-level match since retiring in 2001, although he did look in good shape in winning the seniors event at the Royal Albert Hall last month.
He also teamed up with Hewitt in his last professional match, the 2001 Davis Cup final against France, but it was not a happy experience.
Two-time US Open champion Rafter recalled: "It was shocking, horrible. I was really bad. So my mates are sending me texts saying, 'Can you please work on your returns'. I'll be definitely the worst player in the competition out there.
"But I'll have fun. I'm playing with one of the best players in the competition. I figure it's like eating chocolate or having broccoli, it sort of equals out.
"Doubles, half a court. I think I can do that."
The pair, who were drawn against Eric Butorac of the US and South Africa's Raven Klaasen in round one, are good friends and Hewitt is looking forward to the experience.
He said: "I actually asked him a little while ago. While we're still able to move around the court together, it's nice we can go out there and play in a grand slam."
Might not happen
There remains a possibility the match will not happen should Hewitt go on a run in the singles.
And, given the 32-year-old's recent form, that appears a distinct possibility.
Hewitt has not lost a match yet this season, beating Roger Federer to win the title in Brisbane and then seeing off Andy Murray in an exhibition clash at Kooyong on Friday.
First up for the Australian favourite is 24th seed Andreas Seppi on Tuesday, while 16th seed Kei Nishikori and world number one Rafael Nadal are also in his section.
Hewitt said: "Last year's draw wasn't easy, this year's isn't going to be easy either.
"My ball striking at the moment is as good as it's been in a long time. I feel confident with what I'm doing down my end. I've just got to go out there and execute it."