Australian Open: 'Life's about taking risks' says Novak Djokovic after hiring Boris Becker
Novak Djokovic admits he is taking a risk by hiring Boris Becker as part of his coaching team.
Last Updated: 12/01/14 6:12pm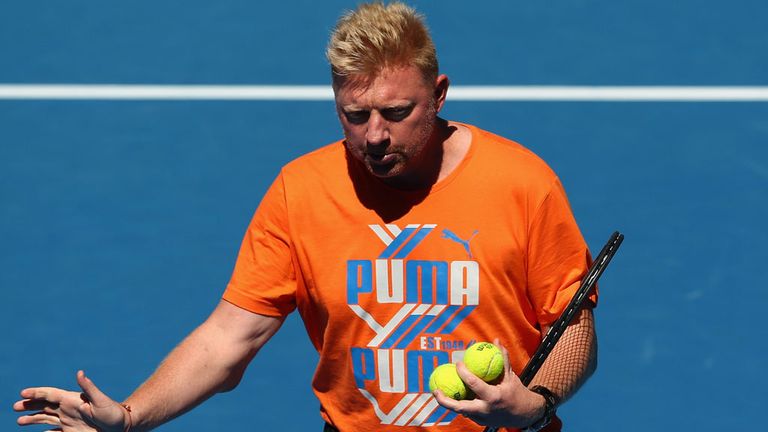 The six-time Grand Slam champion joins the Serb whose long-time coach Marian Vajda remains a key advisor to the 26-year-old despite deciding to spend more time with his family.
Djokovic, defending champion in Melbourne and also a six-time Slam winner, said: "Whenever you make a change in life, it's a potential risk.
"But I don't want to think from that perspective. I'm really excited about this co-operation.
"I'm excited about this partnership I have with Boris that also has been approved and supported by Marian who is still in the team.
"They have a great communication. All I see is positive results, and hope for that obviously. I cannot predict or promise anything now."
Regarding his new team member - the 46-year-old Becker - Djokovic added: "Obviously he's one of the big names in the sport, has won over 60 titles, Grand Slams, number one, Davis Cup.
"I have the utmost respect for what he has achieved in his career. The great serve.
"Obviously at the time the construction of the point was different. Everything was faster. Served and volleyed many times.
"But tennis has evolved in a way because of the technology. Now the game is based on the baseline, longer rallies and so forth.
"Well, I believe with his great volleys, that aggressive kind of mindset also, from that point of view he can help me.
"It's just the beginning. He has committed to work with me and travel with me for more weeks than I thought he would, so I'm really excited about that. We'll see how it goes."