Australian Open: World's leading tennis stars prepare for hot first week in Melbourne
The leading tennis players are facing a hot first week at the Australian Open in Melbourne.
Last Updated: 12/01/14 10:23am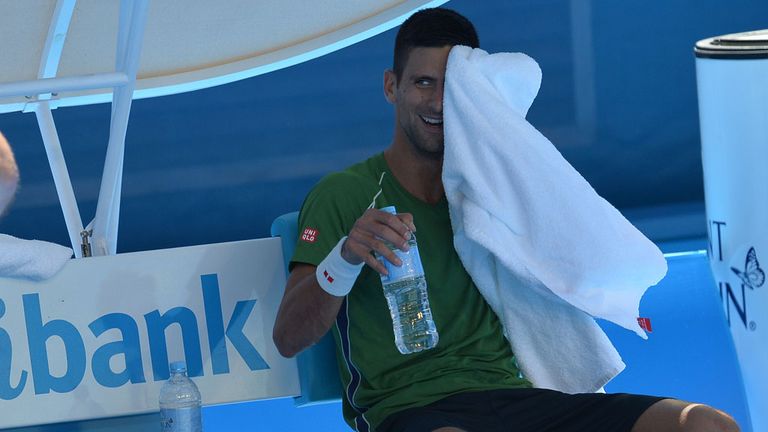 These conditions are set to remain for a few days before cooling down later in the tournament.
Maria Sharapova said: "I don't think anyone can prepare themselves for that type of heat.
"I think it's tough to train to a very high level in that type of heat.
"When you try to put in that effort, that maximum effort to give as an athlete, it's pretty difficult for a long period of time.
"You're not really thinking about tennis, you're trying to really keep your mind focused on maybe keeping the points a little bit shorter.
"Obviously, the longer they go, the worse it is for both of you out there."
As for Novak Djokovic, he added: "I know how tough it is. But it's the same for myself and my opponent so you have to adjust to it."
Serena Williams appears less concerned: "I've been training my whole life in the heat. I think I'm pretty used to it.
"I mean, obviously the heat in Melbourne is just completely different than any other heat.
"But it's okay. I just got to be ready to play under any circumstances."
Andy Murray, who trains in Florida - commonly referred to as the Sunshine State - went on: "It helps.
Huge difference
"But the difference between 32 degrees or whatever in Florida and 40, it's a huge difference.
"It feels very different on the court. The court gets so hot, the air is extremely hot as well."
Victoria Azarenka takes a different angle: "I've been here playing for, what, last eight years.
"It's not a new thing to play in the heat. I actually enjoy that though not all the time probably but it's nice to get some sun."
The hottest Australian Open on record was in 2009 when the average daily temperature was 34.7 Celsius.