Andy Murray believes Australian Open organisers may have to look into heat concerns
Andy Murray has told Australian Open organisers they are risking tragedy by asking players to compete in extreme heat.
Last Updated: 15/01/14 4:27pm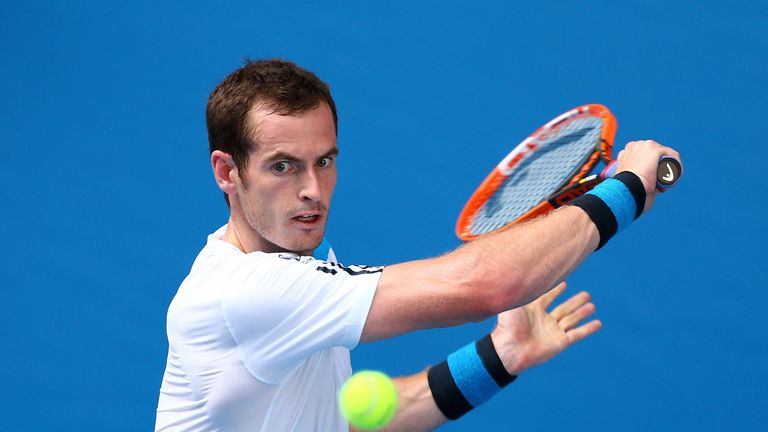 Temperatures reached a high of 42.2 degrees Celsius at 5.45pm, just after Murray began his first-round match against Japan's Go Soeda, which he went on to win 6-1 6-1 6-3.
The pair were fortunate that Hisense Arena is one of the stadium courts, so they were at least able to play in shade.
However, elsewhere at the season's first grand slam event, Canadian player Frank Dancevic and a ball boy both collapsed on court, while China's Peng Shuai vomited then suffered cramp during her defeat by Kurumi Nara.
The tournament implemented part of its extreme heat policy, with women being given a 10-minute break between the second and third sets, but they decided not to put it fully into operation, which would have seen play suspended and roofs on show courts closed.
Dancevic described the conditions as "inhumane", stating: "I think it's inhumane, I don't think it's fair to anybody, to the players, to the fans, to the sport, when you see players pulling out of matches, passing out.
"I've played five set matches all my life and being out there for a set and a half and passing out with heat stroke, it's not normal.
"Having players with so many problems and complaining to the tournament that it's too hot to play, until somebody dies, they're just keep going on with it and putting matches on in this heat. I personally don't think it's fair and I know a lot of players don't think it's fair."
Murray shared the concerns of the Canadian and, with the men's first round alone seeing no fewer than eight retirements, insisted the authorities might have to reconsider the situation.
Terrible
"It's definitely something that you maybe have to look at a little bit," the Scot said. "As much as it's easy to say the conditions are safe - a few people said there's doctors saying it's fine - it only takes one bad thing to happen.
"And it looks terrible for the whole sport when people are collapsing, ball kids are collapsing, people in the stands are collapsing. That's obviously not great.
"I know when I went out to hit before the match, the conditions at 2.30 or 3pm were very, very tough. Anyone's going to struggle in that heat.
"There's been some issues in other sports with players having heart attacks. I don't know exactly why that is. In this heat, that's when you're really pushing it to your limits. You don't want to see anything bad happen to anyone."
When to stop matches is at the discretion of referee Wayne McKewen after a rule change this year, and based on readings not just of temperature but also humidity and wind.
Murray said: "Apparently it wasn't that humid today. That's why it wasn't implemented. There's different rules for the men and women, I don't know why.
"I didn't sit down and discuss whether the guys are happy with the rules or not. But every singles person that I saw coming in from practice or going out to play a match or coming back from a match, everyone just said, 'It's really hot today'."
However, tournament organisers defended their actions and claimed most players had dealt with the testing conditions with no adverse effects.
In a statement, chief medical officer Tim Wood said: "The majority of matches were completed without any court calls from the medical team.
"Of course there were a few players who experienced heat-related illness or discomfort, but none required significant medical intervention after they had completed their match. Generally the playing group coped extremely well."