Australian Open: Andy Murray knows nothing about opponent Vincent Millot
Andy Murray admits he knows nothing about his second round opponent at the Australian Open, Vincent Millot.
Last Updated: 16/01/14 10:45am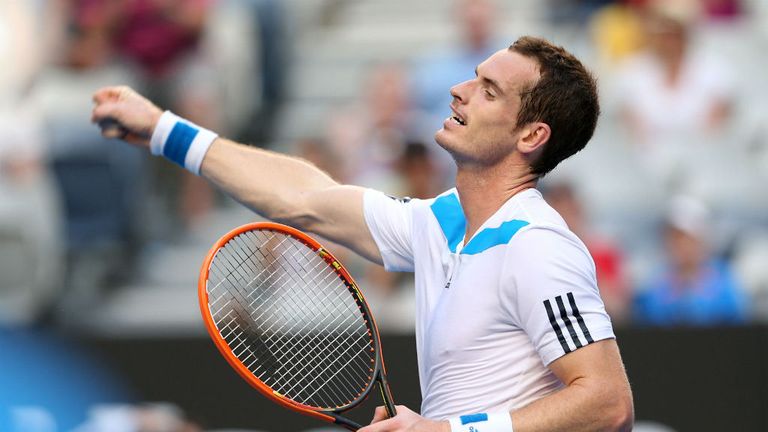 The French qualifier, 27, is a left-hander, and Murray and his entourage are desperately trying to find some video footage before Thursday's match.
Whether they do or not, Murray should have little trouble dispatching the world No 267, who before Tuesday had never won a match at a grand slam.
He beat Wayne Odesnik in the first round, a popular win amongst the players.
Murray said: "I know he's left-handed but I haven't played or practised against him before, I haven't seen any of his matches.
"I'll try to watch a bit of video of his match to see how he plays. But I'm glad he won."
The last comment was a thinly-veiled reference to the unpopular Odesnik, who served a doping ban in 2010 after being caught bringing human growth hormone into Australia.
The good news for Murray is he will not have to play in 40-degree heat - he and Millot will go head-to-head during the night session on the Rod Laver Arena.
Good news
And further good news for Murray is that his section of the draw is opening up nicely for him.
Feliciano Lopez, who Murray has beaten in all seven of their previous meetings, is the only seed remaining in the fourth seed's section, and should he get past the Spaniard, his fourth-round opponent would be one of Stephane Robert, Michal Przysiezny, Blaz Rola or Martin Klizan.
None of them, on paper, should delay him long, and with temperatures going through the roof, Murray wants quick victories before the likely sterner tests next week against the likes of Roger Federer or Jo-Wilfried Tsonga.
He said: "In these conditions you want to win fast. Whether I've played a lot of matches or not, every player would want to get off the court as quick as possible.
"I'm well aware if I go further in the tournament, if I win my next match, the matches are going to get longer and tougher. I'm still kind of waiting to see every day how I'm going to wake up.
"I'm confident that I'm going to be okay. But these tournaments over best-of-five-set matches on the hard courts, over two weeks, it's tough on the body. So it was a good test for me."