Australian Open: Extreme temperatures force play to be suspended
The Australian Open finally implemented its extreme heat policy as temperatures once again rose over 40 degrees Celsius.
Last Updated: 16/01/14 4:58pm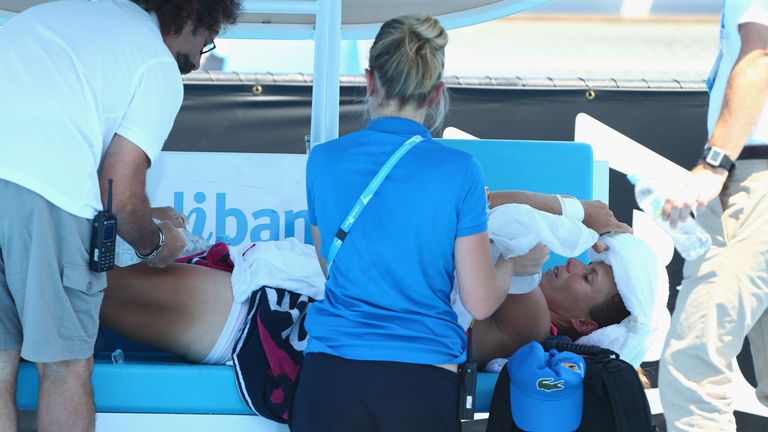 Whether to put the policy into effect is entirely at the discretion of tournament referee Wayne McKewen this year after a change in the rules.
McKewen uses the Wet Bulb Globe Temperature reading, which takes into account humidity and wind direction as well as heat.
He had been criticised for allowing play to continue throughout Tuesday and Wednesday despite temperatures soaring above 40 degrees.
Canadian Frank Dancevic and a ball boy both fainted on court, three players withdrew mid-match because of the effects of the heat and spectators left in their droves.
At just before 2pm local time on Thursday, the announcement came that the policy had been implemented, with the temperature measured at 42 degrees.
Play did not stop immediately, with all players required to complete the set they were playing.
'Very dangerous'
The roofs on Rod Laver Arena and Hisense Arena would then be closed before play resumed, while matches on uncovered courts would only start again once conditions were deemed safe.
Play eventually got back underway later in the day, only for thunder and rain to cause further delays.
There has been a mixed reaction from the players, with many accepting the decision not to stop, but Dancevic branded being made to play in such conditions "inhumane" while Ivan Dodig, who retired from his match on Wednesday, said he feared he might die.
Varvara Lepchenko was the main victim on Thursday, the American taking a medical time-out during the second set of her second-round match against Simona Halep.
Lepchenko lay down across two chairs while a doctor examined her and had ice rubbed over her body before continuing. Having won the first set she managed only one more game in a 4-6 6-0 6-1 defeat.
"I think they definitely should have not started the matches at first place," Lepchenko said.
"I think they should have started the matches after the temperature cooled down a little bit because this is just too much.
"Obviously it is very dangerous if someone has conditions with their heart or anything like that or just being in this temperature it's almost like going to (the) sauna."