Australian Open: Bob and Mike Bryan lose in third round of men's doubles
Bob and Mike Bryan suffered their earliest Australian Open exit in 11 years as they were felled in the third round.
Last Updated: 20/01/14 8:54am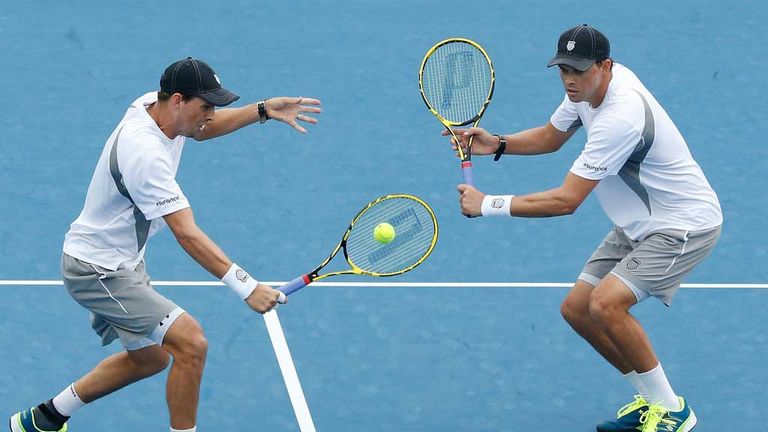 The American brothers have won the title in Melbourne on six occasions but they were unable to cope with American Eric Butorac and South Africa's Raven Klaasen and lost 7-6 6-4.
The top seeds are the most successful doubles team in the Open era with 15 Grand Slam titles but they were outplayed by a pairing that had already upset the home crowd by beating Lleyton Hewitt and Pat Rafter in the first round.
Both brothers feel the defeat shows just how much tougher doubles tournaments have become thanks to better conditioning, equipment, strategies and coaching.
The last time they had lost in Australia before the quarter-finals was all the way back in 2003.
"We like coming down here and starting the year hot and I don't think we played terribly," Mike Bryan said. "It's just the margins are really small."
"I feel like the game is being played at a pretty high level by a lot of good teams," Bob Bryan added. "The old days of just enjoying the pro tennis lifestyle without fully committing yourself is completely in the past."
Butorac was delighted with the pairing's second high-profile success of the tournament but revealed the partnership with Klaasen was one that almost never got off the ground.
"Someone actually suggested, 'I think Raven would be a good partner for you," he said. "I went to go watch his match, thinking this could be my guy, and he was awful. And I was like forget that.
"We played so many doubles matches on back courts in front of small crowds. We finally get to be on a big arena, let's embrace it."