Australian Open: Roger Federer free of doubt after reaching quarter-finals in style
Roger Federer has claimed he has put all his doubts to rest after a vintage victory over Jo-Wilfried Tsonga.
Last Updated: 20/01/14 3:02pm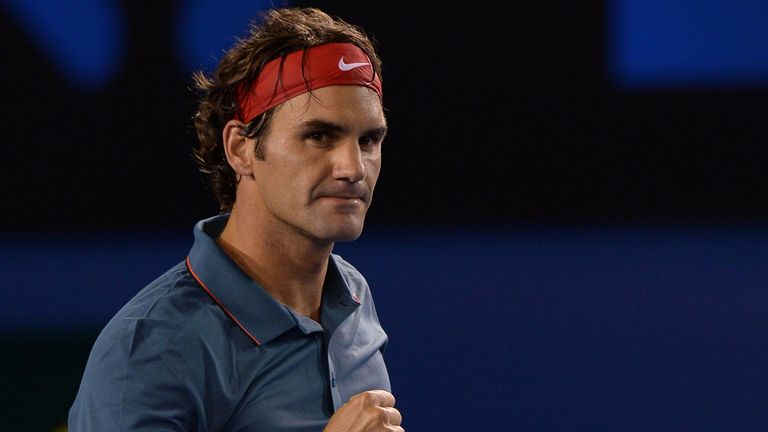 The 17-time grand slam champion, who will face Andy Murray in the last eight, chalked up 43 winners in a 6-3 7-5 6-4 success and looks to be back to somewhere near his best form following a torrid campaign in 2013.
Federer made the perfect start on Monday with an early break of the Tsonga serve and from then on all the pressure came from the Swiss.
Tsonga, who beat Federer in straight sets at the French Open last year, held on until 5-5 in the second set but then dropped his serve twice in three games.
His only break point came a game after he fought back from 0-40 at 2-4 in the third but he could not take it and Federer soon wrapped up an impressive win.
"I don't have doubts any more. I know I'm going definitely in the right direction. I've had a great off season. I had a strong end to the year. I couldn't have worked harder in the off season," Federer said.
"This is the type of win I needed. Clearly if I lose in the next round I'll have doubts again, but I'm going to try to not make that happen.
Confident
"What I've shown over the last three to four months to myself is that I'm more confident, that I know I'm most likely going to play okay in my next match, which wasn't always the case midway through last year when I didn't know how I was going to feel during the match.
"I feel like I can think ahead. I can think tactics. I can think many things out there. Everything else but my body, and that's very positive. I've overcome a lot in the last few months."
Many believe back problems contributed to Federer's downfall last year but Murray has troubles of his own in that department, the Australian Open being only his second tournament since back surgery.
Federer said: "I don't know how he's feeling. I haven't seen him play much. But what I'm hearing is that he's fine.
"That's very positive. That's what I was hoping for Andy, that when he did come back, he was 100 per cent, not half way, limping, not feeling great.
"It's good to see he took care of his draw, and here we are again. I'm looking forward to the match, I must say. I wonder how it's going to play out.
"Last time we played was a great match. So I hope we both can reproduce something similar.
"It will be interesting, because we had an interesting year last year with some ups and downs. It's a good start to the season for both of us already."