Roger Federer is relinquishing the opportunity to challenge the top players to claim his fifth Australian Open title
Roger Federer is relishing the opportunity to challenge the top players to claim his fifth Australian Open title.
Last Updated: 22/01/14 8:29am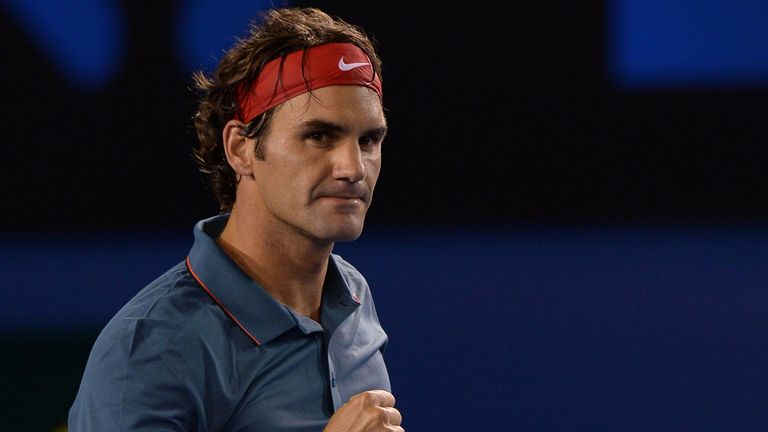 Last year was the first year since winning Wimbledon in 2003 that the Swiss failed to win a Grand Slam tournament and it wasn't until his fourth-round victory over Jo-Wilfried Tsonga that talks began about the possibility of him winning the Open.
Federer will play fourth seed Andy Murray on Wednesday night in the quarter-finals under the lights of the Rod Laver Arena and he is looking to embrace the challenge.
"You need to be able to come through some matches quickly. It's a tough thing to do. Clearly you need to change your game depending on the players," Federer said.
"You are always also a bit dependent on how good their form is, how good is yours. Can you do it three or four times in a row.
"It's definitely a tough task. Then again, if you don't embrace that challenge, you might as well not enter the draw. You might as well stay at home and watch other guys battle it out.
"That's what I like. I like playing the best. And you need to take it to them. You need to play aggressive against the top guys, me included. You don't want to wait for stuff to happen. I think that usually is good for success."
Martina Navratilova has also spoken out about Federer's turnaround this year and said winning the Australian Open would represent the greatest achievement of his career.
And the three-time Australian Open women's champion firmly believes Federer's doubts have disappeared for the time being and she knows he will embrace the tough tasks to come.
"It's anybody's ball game. Roger Federer to me has the toughest draw of anybody. He had the easiest draw getting to the round of 16, now he has the toughest draw," Navratilova said.
"If he were to win this tournament, to me it would be his biggest triumph, and the same could be said of Andy Murray."
"Federer is not usually a man short on confidence, and the doubts he talked so candidly about during his 2013 struggles have disappeared, for the moment at least.
"He knows trying to beat Tsonga, Murray and Nadal back to back is an extremely tough ask, but one he will relish."