Australian Open: Rafael Nadal insists his misfiring serve must be improved
Rafael Nadal insists his misfiring serve must be improved if he is to claim his second Australian Open title.
Last Updated: 22/01/14 2:02pm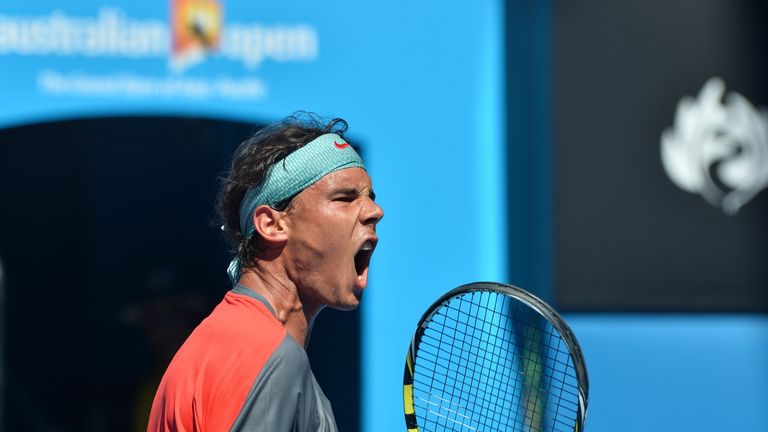 Nadal's serve was compromised due to a large blister on his left hand and he handed over seven double-faults to Grigor Dimitrov in their quarter-final match in Melbourne.
But the world No 1 got home against Dimitrov 3-6 7-6 (7-3) 7-6 (9-7) 6-2 and will now play Roger Federer in the semi-finals.
However, the 13-time Grand Slam winner reckoned his serve led him to lose confidence in the rest of his game and he is determined to right this wrong by Friday.
"I felt that the biggest problem was the serve because, you know, serving like this gives me a problem for everything else," Nadal said.
"When you lose the confidence with one shot, one important shot, then you are not able to play the rest of the shots calmly.
"So I'm going to try to improve that, because I'll need it the day after tomorrow. If not, I'm not going to have the chance to be in the final."
Nadal's 47 unforced errors outnumbered his 42 winners and he admitted that even though protective tape over the blister enabled him to play on, the loss of feeling badly affected his serve.
"With the forehand it's not a big issue (but) with the serve, a little bit," added the Spaniard.
"I feel that with the (protective) tape I can lose the racquet when I'm serving. It's a terrible feeling for a serve, because when you have this feeling you are not able to accelerate at the right moment.
"I lost a little bit of coordination. Yeah, that's a big deal. I served slower. I served bad."