Australian Open: Andy Murray happy with progress despite defeat to Roger Federer
Andy Murray is happy with his run at the Australian Open despite going out to Roger Federer in the quarter-finals.
Last Updated: 23/01/14 9:49am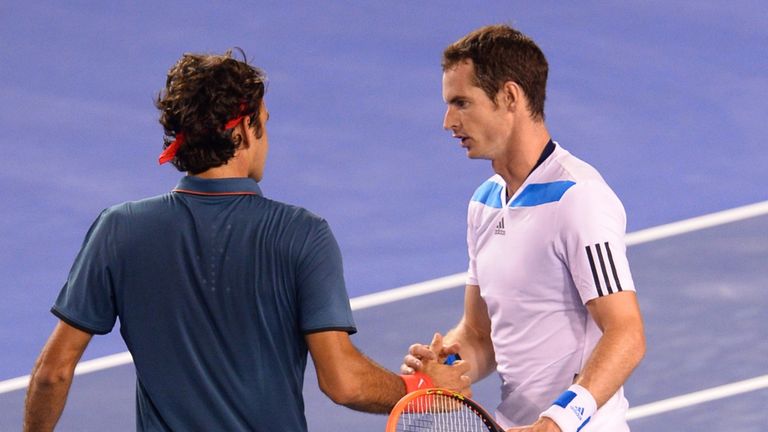 Just four months after back surgery, the Scot admitted it was always "very unlikely" that he was going to win the title in Melbourne.
The Wimbledon champion fought bravely and saved two match points in taking the quarter-final into a fourth set, before going down to the 17-time Grand Slam champion 6-3 6-4 6-7 6-3 in three hours and 20 minutes.
Nevertheless, it was an encouraging performance from the world No 4 in just his seventh match this season after missing the end of last season following his operation in September.
"I don't know how many players have come back from surgery and won the first Grand Slam back in their second tournament. It's very unlikely to happen," Murray said.
"I just need to use this as a stepping stone to getting better and be happy that I've got through five matches here. The last two were particularly tough.
Best tennis
"I'm playing at a decent level fairly quickly again. Hopefully I'll be back playing my best tennis soon."
It took Murray until near the end of the third set to get his first break on Federer's service.
"In the first two sets I thought he played great tennis," Murray said. "When he was serving for the match I felt like I raised my level because I had to basically, and obviously prolonged the match a bit further.
"I just wasn't able to get ahead in the fourth set."
Murray said his back was not bothering him during the match, although he grimaced a couple of times in getting down low to make volleys.
"Obviously right now I'm very disappointed. There's a few things I would have liked to have done differently," he added.
"There's maybe some things I would have done a bit differently if I was ever to have surgery again possibly. But it's the first time I ever went through something like that.
"I thought I did a good job getting myself in good shape to be competitive at this level. I wasn't too far away in the end."