Australian Open: Rafael Nadal delighted with his performance in semi-final win
Rafael Nadal admitted the sight of Roger Federer on the other side of the net brings out the best in him.
Last Updated: 25/01/14 10:18am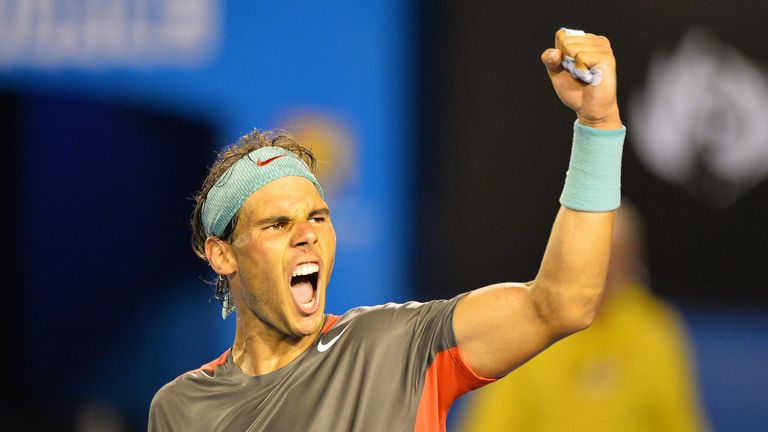 Top seed Nadal defeated his old rival 7-6 6-3 6-3 in their Australian Open semi-final to increase his lead in their career head-to-head to 23-10.
And the Spaniard will now take on another Swiss, Stanislas Wawrinka, in Sunday's final with the chance to become the third man to win each Grand Slam event on two occasions.
"I played a lot of times against him and a lot of times I played great against him," said Nadal. "So probably that's why I had this success against him.
"I think I played probably my best match of the tournament. Great news that I played my best match in that semi-final against Roger.
"He arrived to that match winning two great matches against (Jo-Wilfried) Tsonga and Andy (Murray) two days ago. I'm very happy the way I played tonight and very special moment try to have the chance to be in another final."
Familiar
On his game-plan in the semi-final, Nadal said: "Every time I go on court I know what I have to do, but I don't know if I will be able to do it or if he will give me the chance to play the way that I want to play.
"What happened in the past probably will not help me. I take every match like a different history and every day is different.
"Sure, the matches that I won against him in the past helps to make me feel confident in the way that I have to play, but that's doesn't mean that I will have the chance to do it again.
"Even if we played each other 32 times before this one and I was able to win against him 22, I go on court knowing that I am playing against a player that is unbelievable."
Friend
Nadal has not dropped a set to Wawrinka in their 12 previous meetings but still expects a tough final.
"I saw him play against Novak (Djokovic) and I saw him play against (Tomas) Berdych," he said. "He's playing great. He's a good friend, great guy. So, happy for him that he's in the final. He deserves it. He's playing better and better every year.
"He's serving unbelievable. He's hitting the ball very strong from the baseline. If I am not able to play my best, I think I will not have chances because he's coming to this match with a lot of victories and playing great."