Australian Open: Roger Federer retained his self-belief after heavy defeat to Rafael Nadal
Roger Federer believes his best tennis is to come after a semi-final defeat to Rafael Nadal at the Australian Open.
Last Updated: 25/01/14 10:19am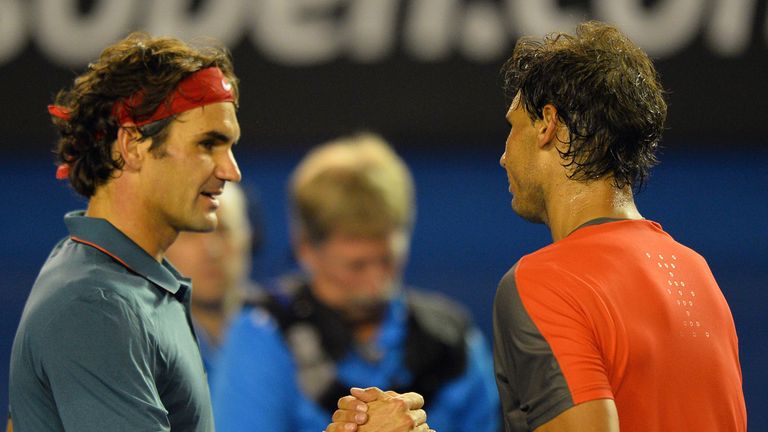 Federer went down 7-6 6-3 6-3 to the top seed and has not added to his record haul of 17 Grand Slam titles since winning Wimbledon in 2012.
But the 32-year-old Swiss, who has started a new coaching arrangement with Swedish legend Stefan Edberg this year, sees plenty of positives.
"It's very encouraging, no doubt," said Federer of his run at Melbourne Park which included wins over Jo-Wilfried Tsonga and Andy Murray.
"Wish I could have won here tonight and given an all-Swiss final (against Stanislas Wawrinka). That's something I'll regret for a long time.
"But I think this is a very good start to the season for me overall. I played some really good tennis here. I still feel my best tennis is only ahead of me right now.
"So I'm looking forward to the next couple of months, how they're going to play out and hopefully by April I feel like I'm going to be at 100 percent again."
Aggressive
Federer will now drop to eighth in the world rankings but was pleased how he had been able to play freely over the whole tournament, having struggled with a back problem for much of 2013.
"What I like to do is I like to take it to the guy, I like to be in command," he said.
"That's what I was able to do now the last couple of weeks, so that's very encouraging.
"That's why I'm not too disappointed tonight because I feel it's been a good start.
"I've come from far back. I didn't have surgery like Murray had or like Rafa, being out seven months.
"But I played with something that has been going on for a while. This is a step in the right direction, and that's the way I want to go. I have a belief this could be a very good year for me again."