Australian Open: Stanislas Wawrinka defeats an injured Rafa Nadal to win first Slam
Stanislas Wawrinka was crowned Australian Open champion as a debilitated Rafa Nadal capitulated in Melbourne.
Last Updated: 26/01/14 2:45pm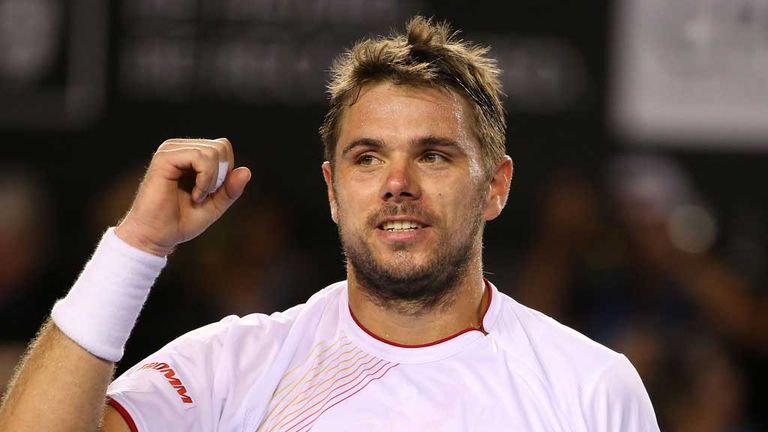 The Swiss No 2, playing in his first Grand Slam final, dominated the first set and broke early in the second when Nadal showed the first signs of a back injury.
At 1-3 the Spaniard took a medical time out and on the resumption the world No 1 was barely able to serve or move around the court as Wawrinka doubled his lead in anti-climactic fashion.
Nadal's movement was hardly any better in the third set but Wawrinka started to lose focus and allowed the Spaniard to take the set without doing much more than get the ball back in court.
Nadal was able to raise his level in the fourth set - albeit still way below his best - and it fired Wawrinka back to full concentration as he broke for an early lead.
Remarkably, Nadal broke back but Wawrinka immediately moved ahead again and promptly served out for a somewhat bizarre 6-3 6-2 3-6 6-3 success.
Attack
All the pressure was on Nadal, who had won each of their 12 previous encounters in straight sets, and he looked like he was feeling it, dropping the ball far too short and inviting attacks from his opponent.
And Wawrinka was attacking at every opportunity, a superb backhand down the line showing Nadal that the high forehands that had so nullified Roger Federer would not have the same effect.
Nadal was broken in his second service game and had to fight off another break point to hold for 2-4, and he transferred some pressure onto his opponent by forcing him to serve it out.
Nadal sensed his moment and missed first serves cost Wawrinka as he dropped to 0-40. But the Spaniard did not make another return and an ace from Wawrinka gave him the set.
It was a huge statement of intent from Wawrinka, and things got even better for the eighth seed at the start of the second set.
A searing return winner gave him a break to love, and a run of 12 straight points was eventually ended when he was 40-0 on serve.
The match then took a major twist when Nadal seemed to jar his back. The Spaniard held his serve but headed off court at the change of ends to receive a lengthy medical time-out.
Wawrinka was furious that he was not being told what the injury was and entered into a heated debate with referee Wayne McKewen.
When Nadal came back on court he was loudly jeered by the Rod Laver Arena crowd, but the problem was all too apparent.
He was rolling in serves at less than 80mph and moving very stiffly on the baseline, while the emotion was clear to see as he struggled to hold back tears.
The crowd were back on Nadal's side as he saved three set points to hold for 2-5, but the Spaniard sat with head in hands at the changeover, sending the trainer away.
Hope
It was a mental test for Wawrinka, whose head must have been spinning, but four big serves gave him the set 6-2.
Nadal appeared to think about calling it a day at the end of the set but decided to head to his chair, and in the first game of the third set there seemed to be a glimmer of hope.
The top seed saved two break points and was at least able to hit a couple of winners.
Of all the things Wawrinka might have expected to happen in his first grand slam final, this surely was not one of them, and he was not handling the uncertainty very well.Wawrinka was battling himself more than his opponent, and two more break points went begging at the start of the fourth set, a set he desperately needed to win.
But the Swiss was handling events much better, holding his own serve easily, and he finally broke Nadal to lead 4-2.
Incredibly, he was then broken back to love, but Nadal's serve was still his big weakness and Wawrinka struck once more to move to within a game of victory.
This time he held to love, raising his hands in delight and relief, although his muted celebrations reflected the strange circumstances of his maiden grand slam triumph.
Wawrinka becomes only the second man after Juan Martin del Potro to break the big four's stranglehold on slam titles since Marat Safin won the Australian Open in 2005.