Australian Open: Stanislas Wawrinka salutes injury-hit Rafael Nadal after final
Stanislas Wawrinka said he felt sorry for an injury-troubled Rafael Nadal after claiming his first Grand Slam title.
Last Updated: 27/01/14 10:17am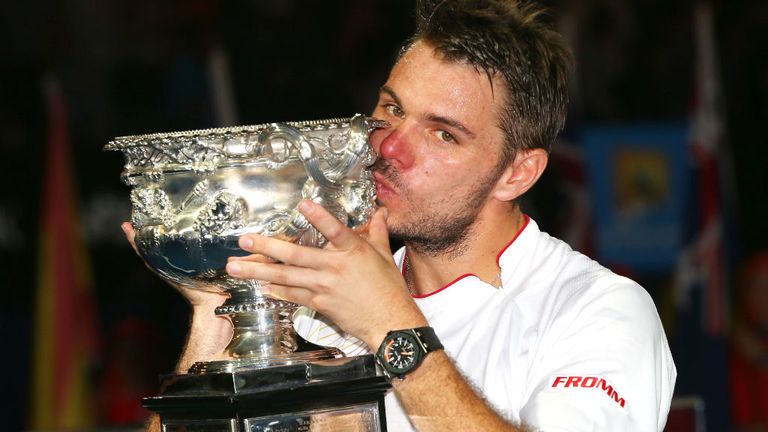 The eighth seed roared through the first two sets and overcame the distraction of a back injury to Nadal, and then the loss of the third set, to win the Australian Open final 6-3 6-2 3-6 6-3.
It was a stunning win for the Swiss player, who had not beaten Nadal in their previous 12 matches, while it has taken him 36 Grand Slam appearances to win his first major title.
He is also the first man to beat Novak Djokovic and Nadal at the same grand slam, and turning to the Spaniard he said: "I'm really sorry for you and I hope your back is going to be fine.
"You're a really great guy, a good friend and an amazing champion. It's always a pleasure to play with you."
Wawrinka, who lost in five sets to Djokovic in last year's fourth round added: "For me it's the best Grand Slam ever. I'm enjoying very much to play here.
"Last year I lost a crazy match and I was crying a lot. I still don't know I'm dreaming but we'll see tomorrow morning."
Umpire argument
Wawrinka also had a long argument with the chair umpire Carlos Ramos when Nadal left the court for treatment, insisting he should be told the nature of his opponent's injury.
"I just wanted to know what was the problem of Rafa. Because before he asked for the physio, he was checking his feet. I didn't know really what was the problem," he said.
"Normally when the physio is coming on the court, the umpire always tells the opponent why he's coming. He didn't want to tell me, so I got (annoyed)."
Wawrinka is still planned to play Switzerland's Davis Cup tie with Serbia, starting on Friday - providing he survives his raucous celebrations.
"Davis Cup, it's really important for me. I'm really proud. It's a big honour to play for my country. So for sure I'm still thinking to go there," he said.
"I don't know how I'm going to get there exactly, if I'm still going to be alive after tonight, but I'm going to go there... There's a big chance I get drunk tonight, but we'll see."
The triumph capped a remarkable fortnight for Wawrinka, who became the first man in 21 years to beat the top two seeds at a grand slam since Sergi Bruguera pulled off the feat at the French Open in 1993.
For Nadal defeat was tough but he added: "Many thanks to Stan, you really deserve it and I'm very happy for you. We have a great relationship. Bad luck was against me today but you really deserve this.
"It's been a very emotional two weeks and I'm sorry to finish this way. I tried very, very hard.
"Last year was a very tough moment when I didn't have the chance to be playing here. Playing this year has been one of the most emotional tournaments in my career."