Pete Sampras believes Roger Federer is capable of winning another slam
Pete Sampras says he would not be surprised to see Roger Federer win a record eighth Wimbledon title this summer.
Last Updated: 19/02/14 10:50pm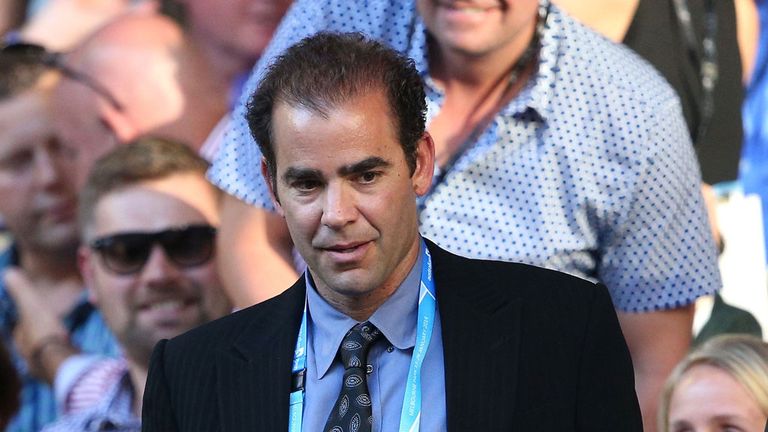 The pair currently share the Open era high mark of seven crowns, with Federer's victory over Andy Murray on Centre Court in 2012 giving him the last of his record 17 grand slam trophies.
Federer's struggles in 2013 led to many in the game writing off his hopes of another slam title, but the 32-year-old began this season looking rejuvenated.
Back problems that dogged him last year appear to be in the past, for now at least, while he has got to grips with a new, bigger-headed racquet and is enjoying working with part-time coach and boyhood hero Stefan Edberg.
Federer showed form of old in defeating Jo-Wilfried Tsonga and Murray to reach the semi-finals of the Australian Open before an all-too familiar defeat by Rafael Nadal.
Sampras encouraged
Sampras was in Melbourne for the match, and was encouraged by what he saw from Federer, who will return to action next week at the ATP tournament in Dubai.
Sampras believes Federer is capable of winning another slam, with the lawns of the All England Club representing his best chance.
He said: "I thought his level (in Australia) was quite good. When you're playing against Rafa and if you're not quite on your game then it can seem like you're struggling. Rafa's a rock.
"But I do see Roger building from that, I think he's going to do well this year. Things need to fall into place and he needs to play well but I do think he can do it (win a slam). I think it is what he's playing for."
Sampras, who called it a day at 31 after winning his 14th slam title at the US Open in 2002, said of Federer's longevity: "He's done everything in the game and he could walk away feeling great but he still wants to travel and compete and I'm in awe of it.
"As long as Roger is enjoying it and he's healthy, I can see him playing for another two, three, four more years. He truly loves the sport."