Broadcast legend John Barrett inducted into Hall of Fame
British broadcaster John Barrett will be inducted into the International Tennis Hall of Fame at Rhode Island.
Last Updated: 03/03/14 6:08pm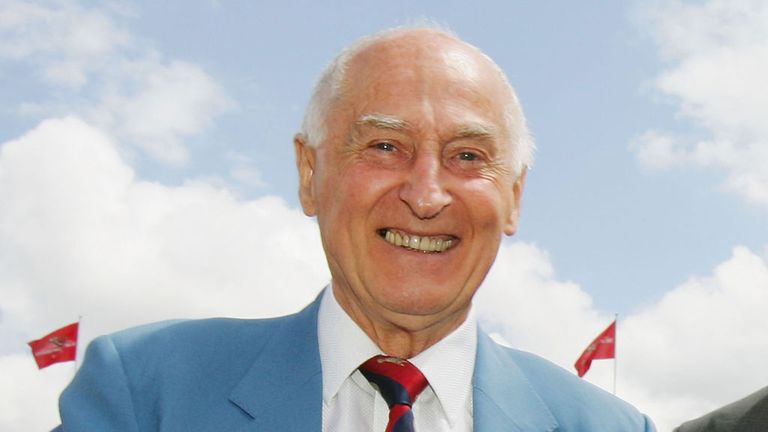 Barrett, 82, is a former Britain Davis Cup captain, and he replaced Dan Maskell as the 'voice of Wimbledon' before retiring in 2006.
He joins legendary coach Nick Bollettieri, former women's world No 1 Lindsay Davenport, Dutch wheelchair superstar Chantal Vandierendonck and long-time executive Jane Brown Grimes.
The newcomers will join 235 people from 20 nations on the 60-year-old roll of honour.
Bollettieri, 82, coached 10 players who would go on to become world number ones, including Andre Agassi, Jim Courier, Monica Seles and Boris Becker.
He has also worked with Maria Sharapova and Serena and Venus Williams and remains active in mentoring young talent.
"Through extraordinary coaching and his keen ability to inspire greatness, Nick Bollettieri is the person we can all thank for helping create some of the sport's greatest champions and therefore, most memorable moments," Hall of Fame president Stan Smith said.
Davenport, 37, won three Grand Slam singles titles and was top of the world rankings for 98 weeks, finishing as a year-end number one in 1998, 2001, 2004 and 2005.
"I'm so honoured by this incredible recognition," Davenport said. "To be recognised in the Hall of Fame alongside the great champions who have always inspired me is just a tremendous honour."
Vandierendonck, 49, was the women's wheelchair world number one in singles for 136 weeks and doubles for 107 weeks after being injured in a 1983 car accident. She also won five Paralympic medals.
Grimes, 73, has held leadership roles at the WTA and US Tennis Association and worked in tennis for more than 40 years.