Andy Murray shocked to hear news that Elena Baltacha is fighting liver cancer
Wimbledon champion Andy Murray shocked to hear the news that Elena Baltacha had been diagnosed with cancer.
Last Updated: 09/03/14 3:58pm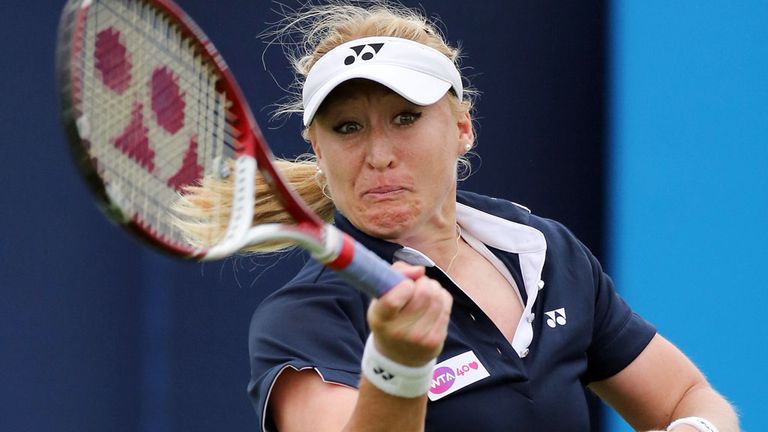 Former British number one Baltacha, who retired from playing in November, announced on Friday that she is suffering from cancer of the liver.
Baltacha grew up in Scotland and worked as a junior with Murray's mother Judy, with whom she has maintained a close friendship.
Murray said: "I heard about it from my mum a couple of weeks ago, she'd gone in to see her in the hospital. You're obviously shocked to hear that.
"I've known Bally for a long time. I don't know her as well as I know Ross, but it's still shocking. She's so young, she's just retired, you're expecting her to enjoy just a nice happy life. She's just got married as well so you feel bad. Life is very, very unfair.
"I think she has the right attitude. My mum told me that she was unbelievably positive very soon after finding out.
"I think that's probably not easy when you initially hear but she always had that attitude when she was playing. She worked very hard, everyone said that. And hopefully she can get through."
Messages of support have flooded in for Baltacha from across the tennis world, and Murray says her illness puts things into perspective.
Perspective
"I feel bad because everyone asks me about it and it's somehow like it's me," said Murray.
"I'm not the one who's going through it. I'm just a tennis player who happens to know these people.
"It does put things into perspective. People are asking me, 'Oh, you've dropped down one place in the rankings,' and it's like, well it doesn't really matter that much at the end of the day.
"It's obviously your health that is the most important thing and it's in situations like this when you start to realise that and respect that."
Former British Davis player Ross Hutchins, who underwent six months of chemotherapy for Hodgkin's lymphoma last year before being told he was in remission in July, was devastated by Baltacha's news.
He said:"I know she is a tough girl with a great family backing. And I know she'll need all that because that's what I had.
"It's not an easy time. I don't know how she's doing. I will almost definitely get in contact with her very soon.
"I only found out about it on Thursday but I'm devastated for her and know that she's going to have to be strong - and I know she will - and come out of it on the other side."