BNP Paribas Open: Andy Murray expresses concerns over form after Raonic defeat
Andy Murray admitted he is low on confidence and concerned by his form after defeat by Milos Raonic at Indian Wells.
Last Updated: 14/03/14 5:12pm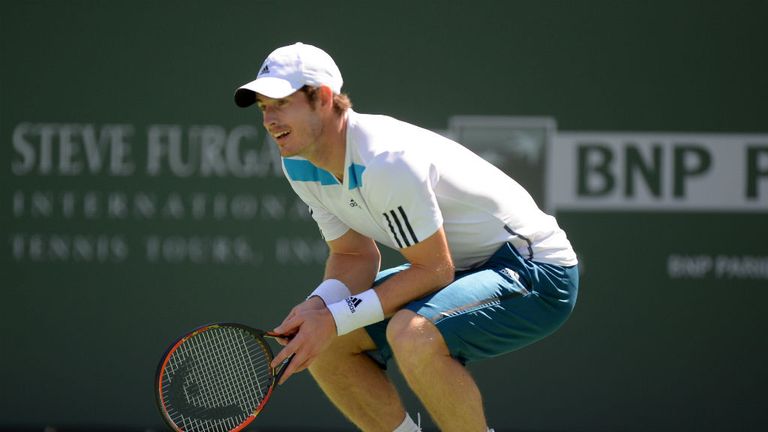 The fourth-round loss in Indian Wells was particularly disappointing for the Wimbledon champion because for much of the match he looked to have found his form.
Murray put his struggles against Jiri Vesely on Monday behind him to win the first set against big-serving Raonic.
The 10th seed hit back to level matters but Murray's worries stem from the way he played in the third, dropping his serve twice in a row having led 2-1 to go down 4-6 7-5 6-3.
The Scot said: "The third set, that's concerning for me. The rest of the matches I have played since I have come back, I haven't been particularly concerned about them.
"Australia was good, Davis Cup was good, Acapulco was good. Today was fine until I went ahead in the third set, and then I was poor. It wasn't good enough.
"To get broken two consecutive times in that situation isn't good enough. I played poor tennis at that stage. I didn't make enough balls, missed easy shots.
"But like really easy shots, not like ones that are deep balls where you're just trying to get it back into play. There were some where he was standing at the net and I just had to hit it to the other side."
No explanation
Asked if had an explanation for his collapse, he said: "I don't know. It wasn't like I was doing it the whole match. I was playing decent.
"Both of us didn't exactly have loads of opportunities on the other's serve until that middle part of the third set, so that's probably down to confidence.
"Because there is no other reason for missing shots like that, basic tennis shots that I would hope to make 99 times out of 100."
The BNP Paribas Open was Murray's fifth tournament since back surgery, and he arrived in the Californian desert confident that he was heading in the right direction.
He reached the semi-finals in Acapulco two weeks ago, losing a close match against Grigor Dimitrov, and insisted that physically he is feeling good.
"It shouldn't really be down to not playing enough matches. I feel like I've played enough," he added.
"Right now I'm not pulling up after matches stiff or sore or anything like that. So I think I'm match fit, match tight. Maybe I'm making some bad decisions in those situations.
"But I'll need to have a think about it and have a look at what happened. All of the shots kind of deserted me a bit."