ATP Sony Open Tennis: Andy Murray confident of defending his Miami Masters title
Andy Murray remained confident of defending his ATP Miami Masters title despite his surprise split from Ivan Lendl.
Last Updated: 21/03/14 3:26pm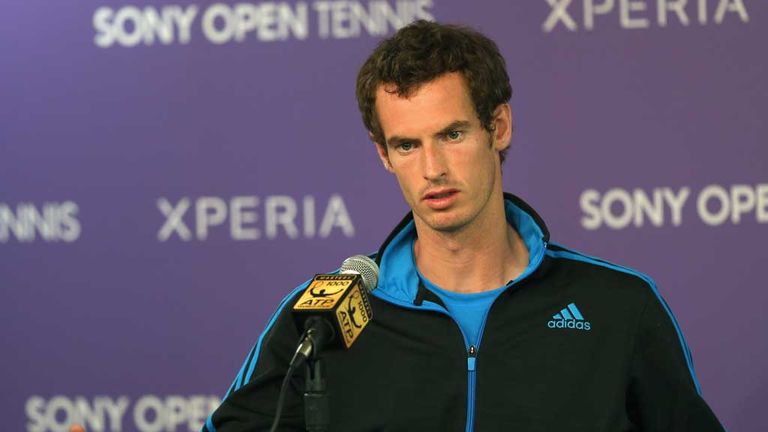 The pair split after two successful years together on the eve of the biggest tournament in Florida and Murray said: "It was mutual.
"We sat down Saturday evening, we went and had dinner, chatted for an hour about other stuff and then we chatted about us moving forward.
"That had been planned for a few weeks. We planned to sit down when I got to Miami to discuss moving forward."
The world No 6 will open the defence of his Miami crown on Friday against Australia's Matthew Ebden.
Murray, 26, said the decision to part company came quickly once it became apparent there would be no furthering of the coach-pupil relationship.
"It wasn't going to happen. The best thing to do was just to move on," Murray added.
"Ivan wanted to do other things and the time required to I think make a difference is more than when he could offer right now.
"It's a tough one for me because he has been a big part of my life. He has been a big part of my team. He made a huge difference to my tennis.
"Ivan's a very hard person to replace. You don't replace that sort of experience easily."
Lendl, a 54-year-old former world No 1 who captured eight slam titles, guided Murray to US Open and Wiimbledon triumphs plus the London Olympic gold medal in their 24 months together.
Competition
The Czech was reportedly ready to move on after rediscovering his love of competition with recent success on the senior tour.
"The thing that he was brought in to do was to help me get over the line in the big events, and that's what he did," the Scot said.
"As to what improvements he made to my game, I don't think it's how I hit the ball or how I hit certain shots is that relevant. My game was there. It was the mental side in dealing with those pressure situations that he was there to help with.
"That was the biggest influence he had on my game."
Murray refused to put a time limit on when he would replace Lendl and said: "It's not going to change drastically the next few weeks.
"But I'm finished with Davis Cup, then I will sit down and have a think what I want to do with that situation and how I want to move forward with it.
"Sometimes being a little bit freer on the court can help for a few weeks.
"I think in the long term it's better to have, you know, someone there and having a structure and a plan as to how you're going to move forward and how you're going to improve.
"Certainly for a few weeks it can help sometimes."
Watch Andy Murray's Miami Masters defence on Sky Sports 3HD from 15.00 on Friday