Mark Petchey: Andy Murray could benefit from Ivan Lendl split
Mark Petchey believes a change of coach could help Andy Murray return to major-winning form.
Last Updated: 21/03/14 3:38pm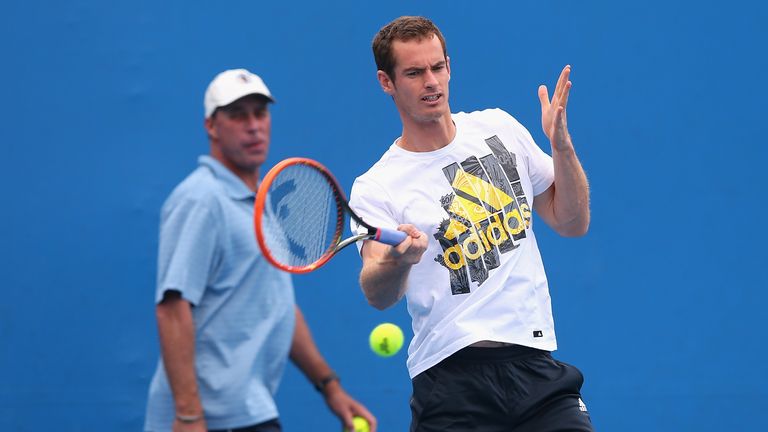 The British No 1 this week announced a reluctant split with Ivan Lendl, the man who oversaw his progress from tennis's nearly-man to Wimbledon winner.
Murray had failed in four grand slam finals before hiring the one-time world's top player but under the Czech's guidance went on to win an Olympic gold medal and the US Open, before ending the country's 77-year wait for a men's singles champion in SW19.
Sky Sports pundit Petchey, a former coach to Murray, suggested conflicting schedules had prompted the pair to part ways, but said a fresh approach for a man no longer burdened by pressure to win a major title could pay dividends.
"Reading between the lines, this looks like they sat down in Miami after Indian Wells and tried to thrash out a new deal and it just didn't happen," Petchey told Sky Sports News.
"Ivan doesn't want to travel as much, he doesn't want to be at the tournaments as much as Andy feels he needs someone right now to be.
"When Andy was looking for Ivan, there was only one man on the planet who knew what he was feeling; he'd lost in four grand slam finals and there was only one other person who had done the same. The hand fitted the glove, the chemistry was there.
"Lendl has got him over that finish line, he's got him to win the US Open, Wimbledon, so the next coach hasn't got to worry about that.
Different angle
"This next coach - and there are quite a few of them around - is going to come at it from a different angle; maybe with different kinds of motivation for Andy to continue this rise and win many more slams."
Murray insisted he would not rush into a decision to replace Lendl, though potential candidates include Australian Darren Cahill, who has worked with the Scot previously on a part-time basis, and Great Britain's Davis Cup captain, Leon Smith.
"It's going to be a distraction to try and get it right because, as Murray has said, he doesn't want a short-term deal, he wants a medium to long-term deal," Petchey added.
"If you're looking for a high-profile guy - like Boris Becker for Noval Djokovic, or Stefan Edberg for Roger Federer - they might have other commitments.
"I know Murray has a huge amount of respect for Darren Cahill but he spends a huge amount of time with US television.
"Trying to find the guy isn't going to be easy and you don't want too many voices; he definitely needs to find one guy to stick around."