Monte Carlo Masters: Roger Federer and Stanislas Wawrinka go head-to-head in final
Swiss compatriots Roger Federer and Stanislas Wawrinka face-off in the final of the Monte Carlo Masters on Sunday.
By Razwan Mirza - Tweet me: @RazMirza
Last Updated: 20/04/14 4:39pm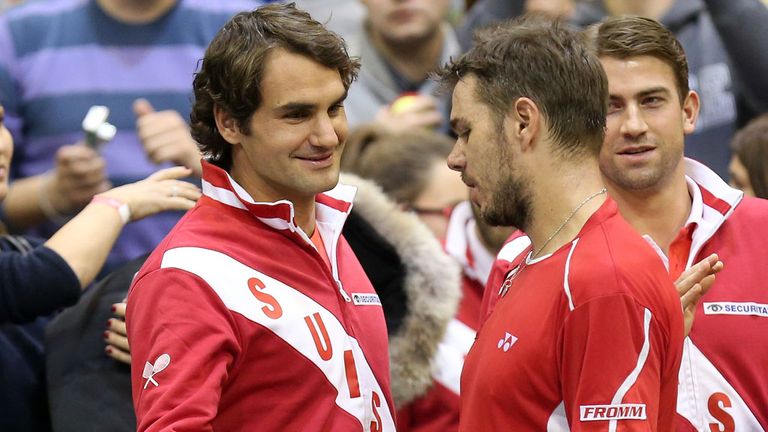 Federer dispatched an injured defending champion Novak Djokovic to reach his first final in the principality since 2008.
Meanwhile, Wawrinka, the Australian Open champion, showed no mercy against David Ferrer, a day after the Spaniard stunned eight-time champion Rafael Nadal in the quarter-finals.
The Easter Sunday match-up is highly-anticipated with Swiss No 1 and world No 3 Wawrinka taking on his Davis Cup doubles partner and good friend Federer - the Swiss No 2 and world No 4.
But 32-year-old Federer goes into the match with a psychological edge standing 13-1 over 'Stan', who won his only match in the series in the 2009 Monte Carlo third round, although Federer had other things on his mind back then.
"I was basically on my honeymoon. I married on Saturday and I came over here and played him like on Thursday," Federer said. "I know I have a good head-to-head (record) against him. I don't read that much into it. He's a different calibre player now."
Old form
Federer featured in the last all-Swiss final when he lost to Marc Rosset in the 2000 Marseille decider, back in the days when the 17-time Grand Slam title winner was still a raw teenager.
However, he is a three-time loser in Monte Carlo, going down each time to Rafael Nadal.
But after the disappointments of last season he has showed signs of his old form after claiming his first ATP title of the year in Dubai, as well as reaching the Australian Open semi-finals and finishing as runner-up in Indian Wells.
For Wawrinka, this is only the third time he has reached the final of a Masters 1000 event. He finished as runner-up on the previous two occasions.
He lost the Rome Masters final to Djokovic in 2008 and went down to Nadal in a Madrid Masters title bid last May.
Wawrinka has overcome his post-Australian Open slump, where he lost early in both Indian Wells and Miami, to improve to 19-3 on the season with his semi-final success.
Looking ahead
And now the 29-year-old is looking forward to taking on Federer in the final: "It's great, for sure, to play a Swiss player, especially Roger."
Federer, whose last clay court title came two years ago in Madrid, admitted he is surprised to have reached Sunday's final, but is determined to add to his 78 singles career titles.
"It comes as a bit of a surprise to be in the finals, especially the first one on clay," he said. "But, of course, I'll take it.
"I've put in the performance to be there, gave myself the opportunity this week. So I'm very happy with my play.
"I think it's incredible that we are in the finals together, the same week we've been playing so well.
"I know Spaniards have it, French guys have it, Americans might have it. But for us it's so rare. Last time was 14 years ago. I played so many matches in the meantime ... you think it's never going to happen again."
Watch the final live on Sky Sports 3 with coverage from 2pm.