Barcelona Open preview: Rafael Nadal favourite, but admits he is worried
Rafael Nadal goes into this week's Barcelona Open hot favourite to win the tournament for the ninth time.
Last Updated: 21/04/14 3:25pm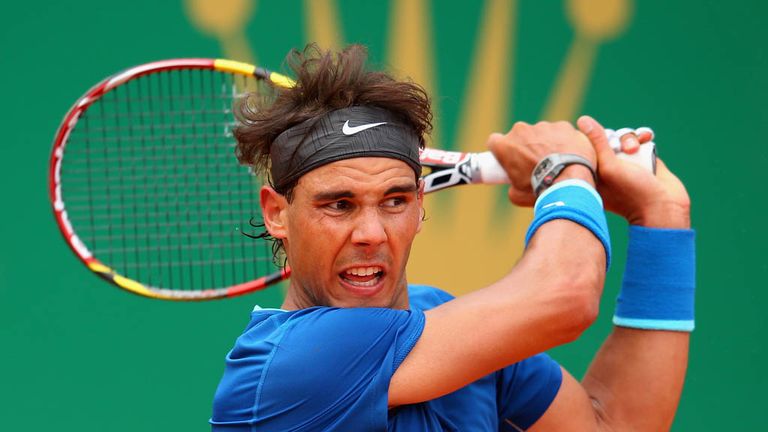 But for the first time in many years, Nadal appears to be vulnerable on clay.
This week is given more than a little extra spice by the fact that he could well be facing David Ferrer in the final.
Ferrer pulled off a stunning victory over Nadal in Monte Carlo last week. It was the first time Nadal has failed to reach the final in the principality since 2003, when he was 16.
With Monte Carlo champion Stanislaw Wawrinka, beaten finalist Roger Federer, Novak Djokovic and Andy Murray (who will return to action in the Madrid Masters) all skipping the event, it is hard to look beyond Nadal or Ferrer as the eventual victor this week.
Nadal just loves playing his tennis in Barcelona, having has won it eight times, matching his record in Monte Carlo.
The last time he lost there was in 2003. Ferrer has been the fall guy in four of those finals, winning just one set in four defeats.
Still suffering
Nadal should be the hottest of hot favourites, but this year all is not well in his mind.
He admits that he has still not got over his defeat to Wawrinka in the Australian Open. It isn't that he lost - it is the back injury which meant he could barely run or serve in the Melbourne final.
He revealed that, even if he is more or less fit now, the injury remains a worry in his mind.
Nadal said: "I just have to keep working to try to find the solutions in Barcelona. I am going to try and play well there and fight for the matches.
"After what happened in Australia it was a little bit harder for me to find again the intensity, the confidence, the inside power that always I have.
"Even if I won Rio, I played the final in Miami, there remains something in my mind and in my game."
Decent form
Nadal is due to begin his campaign on Wednesday. The main threats in the top half of the draw are Fernando Verdasco and Nicolas Almagro, who both arrive in decent form.
Verdasco beat Almagro in the final of the US Men's Clay Court Championship this month. They are seeded to clash again in the third round, with the winner likely to play Nadal in the quarters.
Third seed Fabio Fognini, who beat Murray on the Davis Cup quarter-final in Naples, is also a threat.
Ferrer's path looks more straightforward. Kei Nishikori is seeded to meet him in the semis, and although he has little pedigree on clay, he has been working hard with coach Michael Chang - a former French Open champion - to improve his movement and tactics.
"This is my first tournament of the clay court season so hopefully I can start really strong," Nishikori said.
"It's nice working with a legend like Michael Chang, he knows a lot of things and he knows what I need to do to take me to the next level and I think I have already shown improvement with him."
Watch the Barcelona Open live on Sky Sports 3 every day from Thursday at 1.30pm.