Former world No 1 Maria Sharapova issues warning to her rivals
Maria Sharapova has warned her opponents that she is starting to find some consistency ahead of the French Open.
Last Updated: 29/04/14 11:27am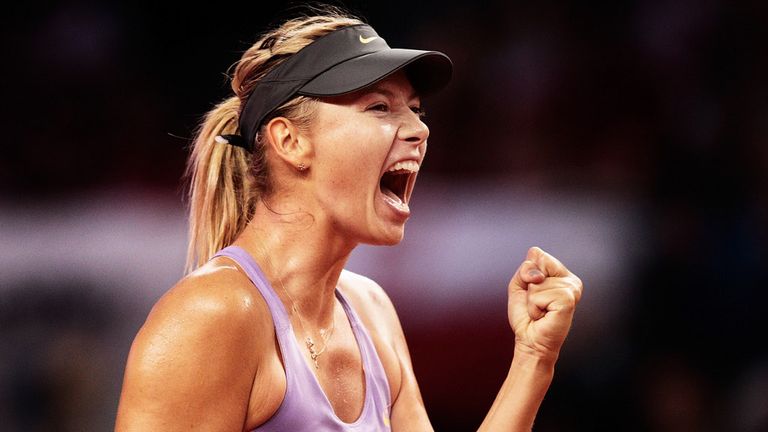 The 27-year-old Russian battled back to beat Ana Ivanovic to claim a third consecutive Porsche Grand Prix title at the weekend.
The Stuttgart success gave Sharapova a much-needed morale boost following poor performances at the Australian Open and Indian Wells, although she reached the semi-finals in Brisbane, Miami and Paris.
Now the world No 9 feels she is going through a different chapter in her career as she looks to regain her Roland Garros crown which she won for the first time two years ago.
"I've had very different phases in my career," said the four-time major winner.
"I've had one when I was young and winning Grand Slam tournaments at 17 years old. Then I had another period, going through a tough injury and climbing myself back up to the top, and then winning another Grand Slam.
"And this year, after another injury with the shoulder, I'm finding myself again in a bit of a comeback.
"Moments like this, winning in Stuttgart, are very special because that's what you work so hard for, trying to win from the first point to the last one of a tournament. I'm really proud I did that here.
"I just want to build on what I've started here. It's still a long way to go into the French Open, I have a couple of tournaments, but I hope to play better with each match that goes by from here on."
Sharapova missed the last four months of last year due to a shoulder injury and is clawing her way back to peak fitness.
"If you saw me after those tough matches in Australia, I was just not physically able to recover, she said.
"And that's from not playing. There's nothing that replicates going out and playing these types of matches."