Wimbledon 2014: Reigning champion Andy Murray to be among top-end seeds
Reigning Wimbledon champion Andy Murray has been assured of being among the top seeds at this year's tournament.
Last Updated: 30/04/14 9:06am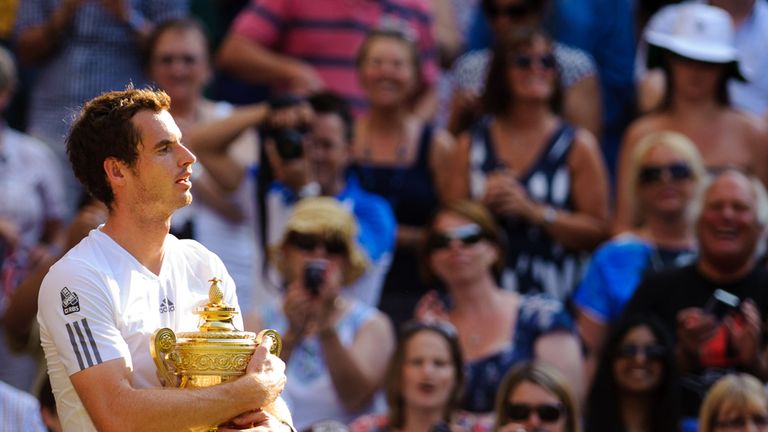 The reigning Wimbledon champion has slipped to a lowly eighth in the men's tennis world rankings after battling for form after persistent back trouble.
But All England Lawn Tennis Club (AELTC) chairman Philip Brook insists this will not dent his seeding at SW19.
"We have a surfaced-based seeding system here at Wimbledon," said Brook.
"So we take the ranking points of each player, and add to that the ranking points they hypothetically received last year on grass, and we add to that 75 per cent of the best-performing tournament in the previous year.
"So to put it into context for Andy Murray, as winner of Queen's last year and winner here last year, and a finalist here in 2012, there will be a significant impact on him.
"There will also be quite a significant impact on (Roger) Federer and (Novak) Djokovic; there will be some adjustment."
Prize money
Meanwhile, Murray could pocket £1.76million should he retain his crown after it was announced that total prize money for this year's tournament will rise to a record £25million.
The figures released by the All England Club mean that there will be a 10.8 per cent increase on last year and keeps Wimbledon as the No 1 Grand Slam event.
But the main increases are for the early losers, with a 15 per cent increase to £27,000 for first-round losers. In all, an extra £2.4m is up for grabs compared to last year.
AELTC chief executive Richard Lewis said any Wimbledon qualifier ranks among the sport's world elite and merits increased reward.
Lewis criticised the idea that players would simply be content to take the increased first-round loser pay cheques over battling to progress in the tournament.
"I slightly take issue with the notion that players will turn up and lose," said Lewis.
"I have to make the point that the players have worked hard to get there, either they have have got into the championships through their ranking, so that's 12 months of play before. Or there are some wild cards.
"So to portray it as £27,000 for turning up and doing nothing, I don't think that's valid.
"The other thing that's worth looking at is the cost of the expenses involved in having a trainer and a coach on the tour.
"I'm not saying they are pleading poverty but they aren't making huge sums of money for world-class sportsmen."
Australian Open singles champions Stanislas Wawrinka and Li Na each banked £1.46m in January, while this year's French Open champion will receive £1.36m.
Rafael Nadal and Serena Williams picked up £1.54m each for triumphing at Flushing Meadows last year although US Open organisers have yet to announce their prize money for this September's tournament.
Murray will be looking to defend his crown at the grass-court event which runs from June 23 to July 6 after becoming the first British man to win the men's singles title since Fred Perry in 1936.