Former British No 1 Elena Baltacha has died of liver cancer at the age of 30
Former British tennis No 1 Elena Baltacha has died of liver cancer at the age of 30, her family have announced.
Last Updated: 05/05/14 12:39pm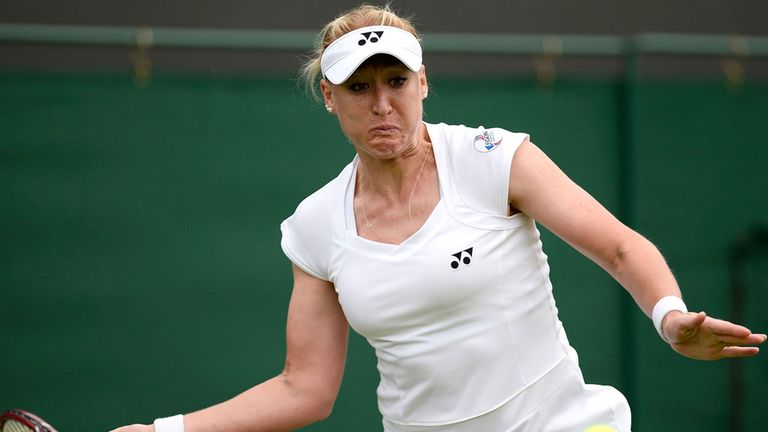 Baltacha was diagnosed with the illness in January, just two months after retiring from tennis and only weeks after she married her long-time coach Nino Severino.
"We are heartbroken beyond words at the loss of our beautiful, talented and determined Bally," Severino said in a statement released by her family.
"She was an amazing person and she touched so many people with her inspirational spirit, her warmth and her kindness."
Baltacha died peacefully at home early on Sunday morning.
The Lawn Tennis Association's head of women's tennis Iain Bates said in a statement: "Today we have lost a shining light from the heart of British tennis - a true role model, a great competitor and a wonderful friend.
"We have so many special memories to cherish, but this leaves a gaping hole for everybody in both British and women's tennis, and words simply cannot express how saddened we are by this news.
"All our thoughts are with Nino and the rest of Elena's family. We will miss you Bal."
Hugely popular
Baltacha, the daughter of former Ipswich, St Johnstone and Inverness footballer Sergei, was born in Kiev in Ukraine but was raised in Perth in Scotland.
She was diagnosed at the age of 19 with primary sclerosing cholangitis, a chronic liver condition which compromises the immune system.
But despite that she reached a career-high world ranking of 49 in 2010, and beat the likes of Li Na and Francesca Schiavone.
Baltacha was a hugely popular player on the circuit and was British No 1 from December 2009 to June 2012 - 132 weeks - winning a total of 11 ITF titles.
She played 39 times for Britain in the Fed Cup from 2003 to 2012 and was also part of Team GB at the London 2012 Olympics.
After deciding to quit the professional game, she had been coaching junior tennis players at her Ipswich-based academy prior to her illness.
Stacey Allaster, chairman and chief executive of the Women's Tennis Association, said: "The WTA was blessed to have such a champion compete and represent women's tennis; Elena passionately represented Great Britain on the world stage and her personal commitment to excellence inspired us all throughout her career to strive for more, to be more, to give more.
"The loss of this special person will have a significant impact on her fellow competitors who not only respected her, but more importantly, loved her."
The previously-announced 'Rally for Bally' - a fundraiser due to be played in June - will now go ahead in her memory.
Her childhood friend Andy Murray had committed to play in the event along with the likes of Martina Navratilova and Tim Henman, with the money raised going to the Elena Baltacha Academy of Tennis and the Royal Marsden Cancer Charity.
Baltacha's agent and friend Eleanor Preston said the fundraiser will be an opportunity to celebrate everything the tennis star achieved.
She told Sky News: "It was part of Bally's emotional make-up to be very stoic, she never once asked why me or why is this happening. She was incredibly strong and determined and that was who she was.
"She achieved an awful lot and in the context of having a serious liver condition that she struggled with since the age of 19. This is why she should be held up as a role model. She went through it all without the slightest bit of self pity or ego."
Current British No 1 Laura Robson tweeted: "Impossibly sad. Forever a teammate. Sweet dreams Bally."