Players pay tribute to Elena Baltacha at Madrid Open on Monday night
Andy Murray was among 50 players at the Madrid Open who held a minute's silence in honour of Elena Baltacha.
Last Updated: 06/05/14 7:57am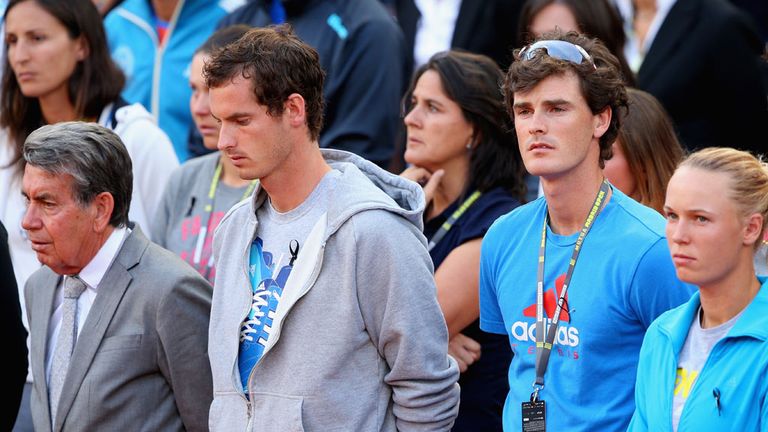 A number of high-profile players, including Murray and his brother Jamie, gathered on Centre Court at the Manolo Santana Stadium to pay tribute to the former British No.1, who died of liver cancer aged just 30 on Sunday.
Coverage of day three of the tournament is set to continue until 10pm on Sky Sports 3HD on Monday, as first round singles matches took place in both the men's and the women's competitions.
The tribute to Baltacha will take place before the match between Carla Suarez Navarro and Austrian player Yvonne Meusburger.
Baltacha, who won 11 ITF titles and was part of Team GB at the London 2012 Olympics, was diagnosed with the illness in January, just two months after retiring and only weeks after she married her long-time coach Nino Severino.
Tennis great Billie Jean King led the online tributes to Baltacha, tweeting: "Saddened to hear about her passing. My fondest memory w/Bally was sharing a wonderful chat when we met the Queen at Wimbledon."
Nine-time Wimbledon champion Martin Navratilova said: "Elena Baltacha was a great fighter on the tennis court. We as tennis players always worry about our bodies, trying to keep injuries at bay.
"But cancer - you can't prevent that and you can't rehab it either and no matter how much of a fighter you are, sometimes cancer wins. Elena was taken from the world much too soon - fighting to the end, and we will miss her."
Current women's world No.1 Serena Williams tweeted: "My deepest prayers, thoughts, concern, and love goes out to Elena Baltacha's family."
In a statement released on Monday, Baltacha's husband Severino said: "We are heartbroken beyond words at the loss of our beautiful, talented and determined Bally.
"She was an amazing person and she touched so many people with her inspirational spirit, her warmth and her kindness."