Mutua Madrid Open: Andy Murray pays touching tribute to his friend Elena Baltacha
Andy Murray has paid a touching tribute in Madrid to his friend Elena Baltacha, who died of liver cancer last weekend.
Last Updated: 08/05/14 8:37am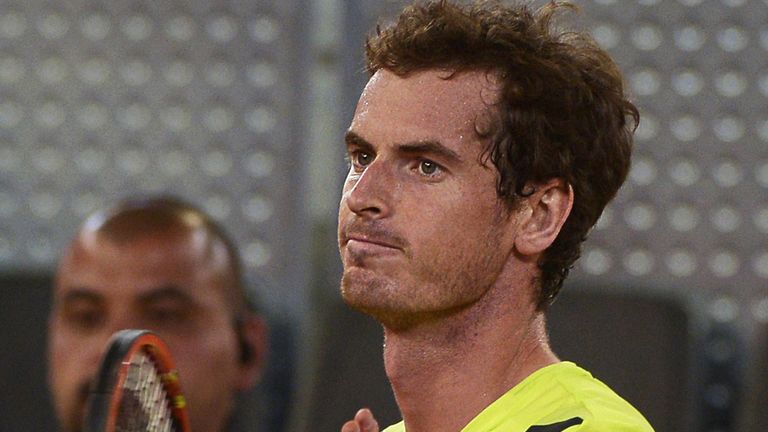 Playing in his first match since her death on Sunday, he signed the lens of a courtside camera with Baltacha's nickname of 'Bally', followed by a heart and a kiss, at the end of his match at the Madrid Masters.
Wimbledon champion Murray made the tribute after beating Spain's Nicolas Almagro to reach the third round of the tournament in Spain.
The two-time Grand Slam champion had known Baltacha since they were part of the same Scottish team as juniors and Murray's mother Judy remained a close friend of player she had worked with in her role as Fed Cup captain.
Murray took part in a tribute to the 30-year-old in Madrid on Monday, and he told reporters in the Spanish capital: "It's been a tough 10 days or so.
"I kind of had an idea what was going on with Elena because my mum is obviously very close with her and her husband."
Perspective
He added in national newspapers: "It does make you think about things and you do realise how lucky you are, and that the most important thing is your health.
"The more time that passes the more people will celebrate everything that Bally did because she was a great character, a great person, she got everything she could out of her potential.
"Everyone wants to be Wimbledon champion and to be number one in the world but not everyone can have that. The best thing you can do is achieve your potential and I believe she did that. That's a big credit to her.
"It's something that every single day you're going to think about. But it's just tough for everyone today. I just wanted to try to go out and play and win, and try to enjoy it. Right now is not easy."
Baltacha, 30, died peacefully surrounded by friends and family and with her husband Nino Severino at her side.
She was diagnosed with the illness in January, just two months after retiring from tennis and only weeks after she married her long-term coach.