British No 1 Andy Murray returns to action at Rome Masters
Andy Murray returns to action on Wednesday hoping to get his season back on track.
Last Updated: 14/05/14 8:06am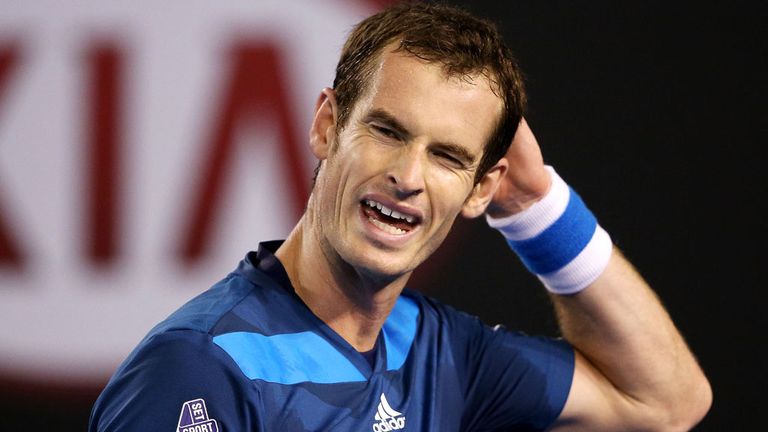 The Scot, who turns 27 later this month, accepts his form 'has been patchy' during 2014 but remains upbeat about his immediate future, starting at the Rome Masters on Wednesday.
He opens his Rome campaign against Marcel Granollers, the No 25 ranked Spaniard who he faced at the same stage last year. The match is first on court, starting 11am UK time, live on Sky Sports 3.
Last year Murray was forced to retire at the end of the second set - when the match was tied one-each - and he then missed the trip to Roland Garros.
Granollers will be a tough challenge for Murray - a Spanish clay-courter who has been rising steadily up the rankings in the past couple of years.
Murray was beaten by Santiago Giraldo in Madrid last week, and has been struggling for form on clay, his least favourite surface.
Murray, who was inactive between mid-September and late-December last year as he recovered from an operation, told the official ATP World Tour website: "My form's been a little bit patchy.
"I've played some good stuff, some bad stuff, but hasn't been consistent. Some days I've felt good and then the next day not so.
"Played OK at the Australian Open, Acapulco, Miami and the next six weeks will tell me where I'm at. The aim at the start of the year was to get back fit and healthy and I'd like to be playing my best tennis by the French and then Wimbledon."
And he says he is not too concerned that during the past 12 months his world ranking has dropped from second to eighth: "When you miss three or four months of the year - I didn't play the French Open and then missed the last three months - it's very hard to maintain a high ranking. That's the way the rankings work - so it's not frustrating."
The right man
He also said he will not be rushed into appointing a new full-time coach, as it is important to find 'the right man'.
Murray parted company with Ivan Lendl in March after a two-year period that yielded two Grand Slam titles and an Olympic gold medal.
He stressed: "You need to get the right person. You can't just call someone up and ask them to come and work with you as it may not be the right fit.
"I want to get the right person in place who may be there for a few years. That's what takes the time because not everyone is willing to commit to the amount of time that's required.
"It's about finding someone who can help with your mentality and it's also about finding the right character. You don't want someone who's going to get angry and upset or missing home because some have families.
"Sometimes you find people who have families don't want to travel more than two weeks in a row."
Watch the Rome Masters live on Sky Sports this week