French Open: James Ward targets place in world's top 100
James Ward has set his sights on a place in the top 100 of the world rankings after performing well at the French Open.
Last Updated: 26/05/14 7:56pm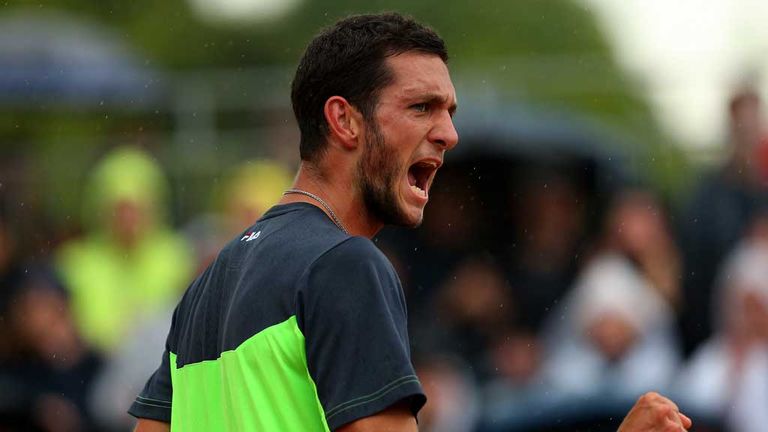 The Londoner, who is currently ranked 168 by the ATP, produced a battling display as he went down 4-6 6-4 6-2 6-4 to 17th seed Tommy Robredo of Spain in the first round.
Ward had already made history in Paris last week by becoming the first British man in 41 years to qualify for the tournament and he has once again shown that he can trouble the world's best players.
He said: "I thought I played really well throughout the whole match. A little dip first couple of points in the second set, and then in the third I thought he really controlled the game.
"His forehand was really going off the court. It was tough, heavy conditions. It was raining. Slower. It was very difficult. He moves very well.
"But I fought hard, got back into the match, and, again, had a couple of chances in the fourth. He's one of the toughest players to play on clay in the world. I put him up there top five in the last 10 years, so I'm pleased with my efforts.
"Hopefully I can take this sort of form on to the next few weeks.
"Everyone wants top 100. I'm aiming higher than that. Obviously that's the first step.
"It's not going to happen in one week. Even if I made fourth round I wouldn't be top 100. You've got to be realistic and know that it takes a few weeks, a few months, to do.
"But if you're consistent and winning more matches, it's going to happen eventually."
Ward believes he still has time on his side to achieve his goals, saying: "I'm 27, I'm not 32. People sometimes forget that.
"I've had injuries in the past when I've had chances to get around 130, 140, but it's not an excuse. You've got to take time and work your way up there.
"I've got a coach now who knows the game. I'm looking forward to working with him and seeing how the next few weeks and the rest of the year goes.
"I'm working on my mindset, different routines during matches, things I'm thinking about, areas I'm trying to hit the ball on the court.
"It's a work in progress. It's not going to change in a week. You can see improvements already."
Ward will now head home and begin practicing on grass.
He is still to decide whether to play in next week's Aegon Trophy in Nottingham but already has a wild card into the Aegon Championships at Queen's Club and one for Wimbledon will certainly follow.