Andy Murray thinks Philipp Kohlschreiber will prove 'very tough' to beat
Andy Murray will face a stern test of his clay credentials when he takes on Philipp Kohlschreiber on Saturday.
Last Updated: 31/05/14 7:15am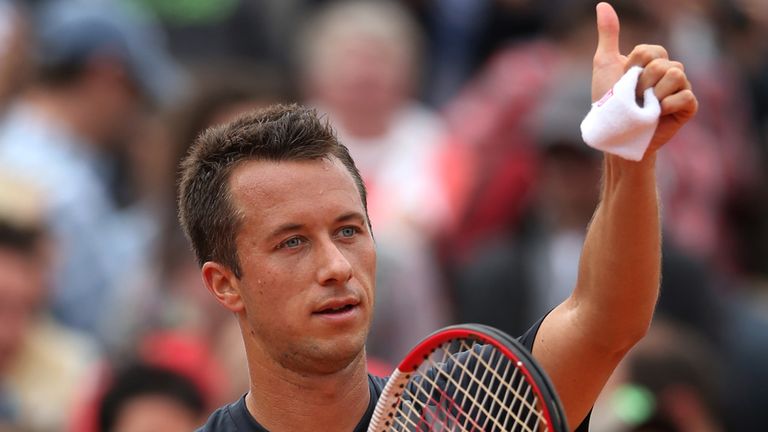 Kohlschreiber is the 28th-seed and the German has a good record on clay, winning in Dusseldorf last week to claim his third career title on the surface.
That is three more clay court titles than Murray can boast and Kohlschreiber thrashed the Brit 6-2 6-1 in Monte Carlo in 2010.
Murray said: "It's a very tough match for me. He obviously won the tournament last week and he's not dropped a set here, I don't think. He's a very good player.
"I played him once before on clay and I think I got three games or something.
"I remember not playing particularly well, I was very disappointed after the match.
"At the beginning of the clay-court season I have had some tough matches over the years, so I don't remember a whole lot about it in terms of exactly what happened during the match. It just wasn't a pleasant memory for me.
"Over the years I have had a few matches like that in Monte Carlo, where I've lost fairly comfortably. I lost to Stan (Wawrinka) last year very quickly, as well."
Promise
Murray was beaten by Santiago Giraldo in Madrid following his exit in Monte Carlo but shaped with a lot more promise in Rome, where he lost a great match to Rafael Nadal.
And Kohlschreiber admits that a peak-form Murray will be hard to beat.
"It all depends on his level of play, I would say," he said. "If the big guys are confident and they win many matches, they're going to be tough to beat.
"Obviously, I'm also on a very nice run at the moment, so it's the best chance to play against the big guys.
"For sure, he's the favourite in this match, but I'm going to try everything and fight from the first to the last point. I'm going to enjoy this match.
"If he's fit and mentally strong, he's unbelievably tough to play. He's a very solid player and a big fighter. You're going to work very hard for the points.
"But I have a lot of confidence at the moment and winning a title is always very special. It came at a great time, let's put it this way.
"I'm just enjoying the good run."