French Open 2014: Maria Sharapova beats Simona Halep in three sets at Roland Garros
Last Updated: 07/06/14 6:24pm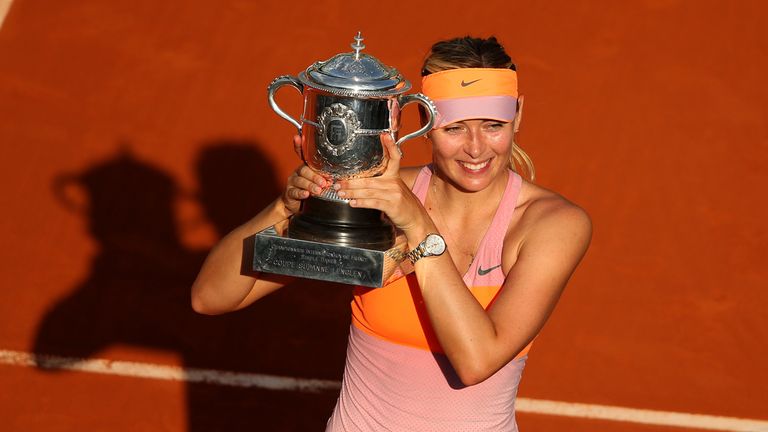 Maria Sharapova claimed her second French Open title after coming through a marathon battle with Simona Halep 6-4 6-7 6-4 at Roland Garros.
The Russian seventh seed was forced to battle it out for just over three hours by her diminutive Romanian opponent, who kept coming back time after time in a pulsating contest in Paris as the women's final went the distance for the first time in 13 years.
After Sharapova just edged the opening set, the second set swung backwards and forwards in a real thriller, with four breaks of serve on the bounce sending it into a tiebreaker.
The 22-year-old Halep defied the fact this was her first grand slam final to hold her nerve superbly and grind out the breaker to send the final into a deciding final set.
Sharapova broke in the opening game of the third set, but yet again Halep showed bags of courage to hit back immediately, and repeated the dose after Sharapova stole her serve again for 3-2.
However, the third break was just too much for Halept to recover from and with her resistance finally broken Sharapova served it out to claim her fifth grand slam title.
Before receiving the trophy from seven-time Roland Garros champion Chris Evert, Sharapova said: "This is the toughest grand slam final I've ever played. All respect to Simona, I thought she played an unbelievable match today.
"I never thought seven, eight years ago I would win more Roland Garros' when I was 27 than any other grand slams. It's a dream come true and it means so much. I'm so emotional right now I can't even talk."
Clay convert
Coming on the surface that she had found so difficult earlier on in her career, the fact that the French Open is the first grand slam Sharapova has won twice shows quite the transformation.
I never thought seven, eight years ago I would win more Roland Garros' when I was 27 than any other grand slams. It's a dream come true and it means so much. I'm so emotional right now I can't even talk.
Maria Sharapova
At the other end of the spectrum was Halep, who showed enough fight and talent in her first grand slam final to suggest she could reach many more, and her reward is a rise up to world No 3 in Monday's world rankings.
And it was Halep who started the better, the first-timer looking the looser and guiding her shots expertly into the corners as she moved into a 2-0 lead.
Sharapova responded by moving into a higher gear that allowed her to rattle off five straight games and, although Halep hit back with a break, she then lost her own serve as Sharapova converted her second set point.
A 2-0 lead for Sharapova in the second suggested that she was clearly on top, but Halep proved she was not short on determination as she hit back before the two then traded breaks of serve in four straight games.
Tie breaker
Sharapova looked poised to clinch the title at 5-3 but blinked within sight of the line, four errors helping Halep level the match as it became the first women's final to go the distance since Jennifer Capriati beat Kim Clijsters 12-10 the third set in 2001.
Sharapova took a long bathroom break between sets and began the decider by breaking the Halep serve, but back came the Romanian with a sixth successive break before Sharapova was given a time violation by umpire Kader Nouni after he continued slow play.
 
The Russian's fist pumps became bigger as she saved two break points before Halep netted a backhand to give Sharapova a 3-2 lead.
Halep refused to go away and Sharapova's 12th double fault of the match made it 4-4, but Sharapova raised her level one more time with a stunning game to break again and leave herself serving for the match.
Halep could not muster one final comeback and Sharapova managed to win the final eight points of the match before falling to the clay to celebrate her second title in Paris.
"It's my first grand slam page, emotionally it's difficult," said Halep, last year's most improved player. "I hope there will be many more but this one will be special for me all my life. Congrats Maria you're a great champion."